October 14, 2017 – January 5, 2018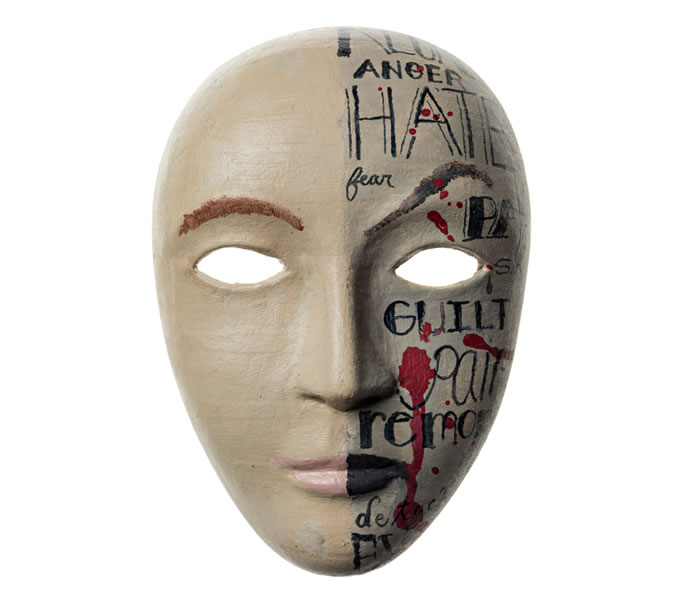 The works documented in Unmasking the Trauma of War photo exhibit were created by military service members participating in art therapy sessions at the National Intrepid Center of Excellence (NICoE). Using art therapy these service members explore the themes of patriotism, duality of self , and the physical and psychological pain so often experienced by our military servicemen and women.
The NICoE art therapy program encourages service members to externalize and then process their feelings, experiences and identifies artistically with the psychotherapeutic guidance of credentialed art therapist. Works in this exhibit were created by military veterans of the wars in Iraq and Afghanistan.
---
Healing Mask Exhibit Opening & Guest Speaker Luncheon
Melissa Walker, MA, ATR,
Art Therapist, Healing Arts Program Coordinator
Health Sciences and Human Services Library
5th Floor Gladhill Boardroom
Monday, November 20, 2017
12:00 noon – 1:00 p.m.
Please join us – RSVP to events@hshsl.umaryland.edu. Seating is limited.
---
Guest Speaker Melissa Walker
Melissa Walker, ATR, moved to the National Capital Region to work for the Department of Defense after earning a Master's in Art Therapy from NYU. Melissa served as art therapist on Walter Reed's inpatient psychiatric unit before transferring to the National Intrepid Center of Excellence (NICoE). There, Melissa developed and implemented the NICoE Healing Arts Program to explore the integration and research of the creative arts therapies for service members with traumatic brain injury and psychological health concerns. Melissa also acts as lead art therapist for Creative Forces: the NEA/Military Healing Arts Network – a collaboration aimed to expand arts access for the military population. Since its inception the NICoE's art therapy program has gained international recognition, including a National Geographic Magazine cover story and Melissa's TEDMED talk featured as TED's "talk of the day."