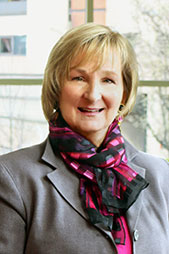 M.J. Tooey Executive Director
Data, data, data. A day does not go by without some aspect of data bombarding us. The UMB resource enterprise generates and thrives on data. Clinical care is based on evidence informed by data. Increasingly, education and training advances rely on assessment and the use of student and achievement data. Even community engagement activities are based on evaluation and data around community needs. The Health Sciences and Human Services Library is no different.
We collect a lot of data essential to our decision-making. We track usage of our e-resources and use that data to help determine how to maintain the best collection possible in a time of diminishing resources. We gauge user satisfaction with surveys of new students and our annual Library Genie survey. Recently we completed our biennial online survey of resource usage. This random survey gives us a snapshot of user behavior. Which school uses us the most? What percentage of our users are faculty, staff, or students? What is the purpose of their use – research, assignment, care, etc.? This helps us develop a fuller picture of usage and user needs. We count numbers of services, such as systematic reviews, consultations, and training sessions, and their attendees. We also look at interlibrary loan statistics for trends in resource use. Later this year we will be doing an internal survey of the library staff regarding their thoughts about how we work together within the library. And finally, for 39 years, the HS/HSL has contributed to the Annual Statistics of Medical School Libraries in the United States and Canada compiled by the Association of Academic Health Sciences Libraries (AAHSL). Through questions related to budget, staffing, training, salaries, and many other areas, we track our progress, monitor trends, and benchmark against peers and colleagues.
There are many other data touchpoints we examine here in the library in our quest to do the best we can in support of our community's success. If you would like more information about any of the many things we count and analyze, please let me know.
P.S. Congratulations, 2017 Graduates!