August 23, 2013 – October 09, 2013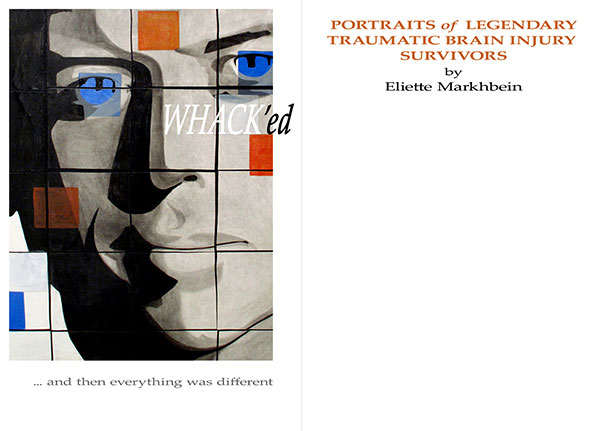 Artist Eliette Markhbein, who sustained a traumatic brain injury in 2004, showcases a series of 12 larger-than-life paintings of TBI survivors who became role models for their peers. Markhbein's unique technique is a silent testimony to the three phases of TBI: fractured – reassembled – whole. Using photographs, Markhbein first draws the portrait in charcoal on paper. She then imperfectly cuts the drawing into squares and reassembles them as portraits on a painted canvas. The uneven grid effect that results illustrates how TBI disrupts sensory and perceptual processes. The grid also acts as a metaphor for the support and structure TBI survivors require to live an active and rewarding life.
Eliette Markhbein is a French/American artist currently living and working in New York. Her approach to art is multi-disciplinary – large-scale charcoal drawing, painting, photography, clay, multi-media collages, and poetry – using one or more media appropriately for the projects she produces.
An activist with a strong sense of justice, energy and compassion, Markhbein makes art to acknowledge, celebrate and empower the human spirit and to help change antiquated attitudes regarding issues she cares deeply about. Markhbein has developed many interconnected bodies of work expressing her feelings on the plight of returning service-members affected by TBI and the need for awareness and education about this disease; the devastation and desolation brought on by Hurricane Sandy and the need for an unequivocal public policy with regards to climate change; the Iraq war and the enormous cost to the civilian population; the take-over of government by big business and the culture of greed that pervades etc…
Markhbein's work has been featured on CNN, NPR and EYEWITNESS NEWS WABC/TV and she is the recipient of many awards. She studied studio arts at Hunter College NY with Nari Ward, Robert Swain, and Michael Brennan and also holds a Masters degree in Journalism from Columbia University NY.
Prior to being an artist, Markhbein was a world traveling journalist. Her career came to an abrupt end when she was struck by a speeding drunk driver who left her injured and disabled. After years of rehabilitation during which she took up painting, Markhbein re-invented herself as an advocate who uses her art to voice and advance social and political issues.
Eliette Markhbein was profiled on CNN. See the clip here
A Visual Journey of Healing and Recovery from TBI