November 1, 2015 – March 31, 2016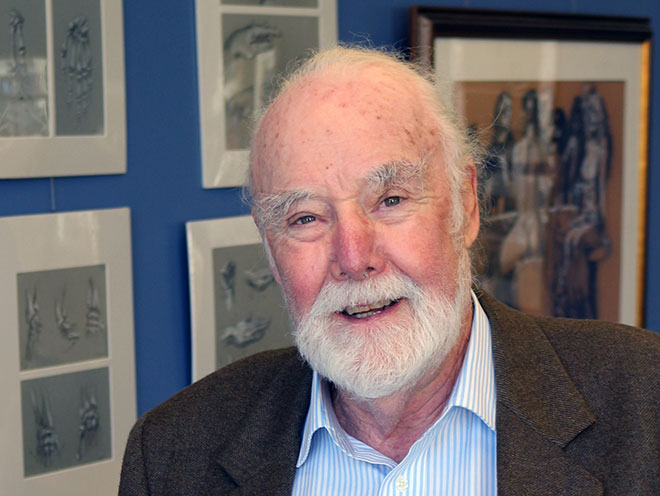 Joseph Sheppard's current exhibit "The Human Figure, Anatomical Drawings" will be on display November 1, 2015 through March 31st, 2016 in the Frieda O. Weise Gallery on the first floor of the Health Sciences and Human Services Library at the University of Maryland, Baltimore. (Library Hours) On display for the first time, the exhibit features detailed drawings of anatomy found in several of his published books. His work, deeply rooted in realism, captures the detail and beauty in the human figure.
An opening reception will be held on Tuesday, December 1st, 2015 from 4:00 – 6:00 pm.
Joseph Sheppard's work can be found all over the world. He is an artist and sculptor, who also attended and taught at Maryland Institute of Art (MICA). He has been creating works since before the 1950s spending part of his year in Italy and the other part here in Baltimore.
Some of his works found locally include the Brooks Robinson statue in the plaza at Oriole Park at Camden Yards, the Holocaust Memorial, and the statue of Pope John Paul II with Two Children at the Basilica of the Assumption. The Joseph Sheppard Vesalius painting, donated by Mr. and Mrs. Henry Rosenberg, Jr. depicting the first human autopsy, is on display outside of the Administrative Offices on the 5th floor of the Health Sciences and Human Services Library.
Both his paintings and sculptures can be found at the Leroy Merritt Center for the Art of Joseph Sheppard, a gallery dedicated to his work at UMUC. The gallery hosts a wide range of his work including detailed oil paintings and a large number of commanding statues.
Other notable works created by artist Sheppard include commissioned portraits of past and current political and religious figures including President and Mrs. George Bush, Barbara Mikulski, and Mayor and Governor William Donald Schaefer, Pope Benedict XVI and Cardinal William Keeler.
This year Joseph Sheppard was awarded the 2015 Sports Artist of the Year for "capturing the spirit and life of sport" by the United States Sports Academy and was also honored by the Tuscan American Association for creating bridges between Tuscany (Italy) and the United States in the world of art.
Additional information about his work can be found here http://www.josephsheppard.com.