The Health Sciences and Human Services Library Historical Collections' strives to provide broad access to our diverse collections both in person and digitally. Materials in our collections appear as they originally were published or created and may contain offensive or inappropriate language or images and may be offensive to users. The University of Maryland, Baltimore does not endorse the views expressed in these materials. Materials should be viewed in the context in which they were created.
Still looking for that perfect Thanksgiving dish?  Holiday dessert?  Appetizer to try during a virtual office event?  Or perhaps you are tired of making banana or sourdough bread?  Drop that phone, cancel your GrubHub order!  The HS/HSL is here to help!  In November 1984 the staff of what was then the Health Sciences Library produced their very own Cookbook.
Organized like many professionally published cookbooks, the volume includes appetizers, soups, and salads; main courses; side dishes; and of course, plenty of desserts contributed by library staff members.  If you have in fact tried all of the internet's sourdough bread recipes maybe it is time to try Systems and Automation Librarian, Gary Freiburger's, "Dilly Bread."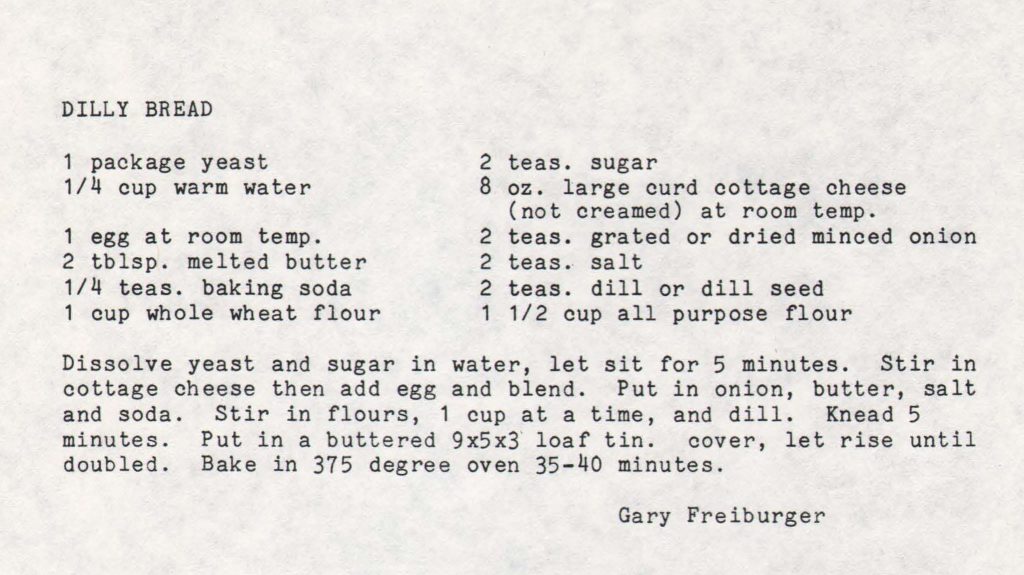 Got a craving for cheesecake? The HSL's Cookbook has that covered!  There are five cheesecake recipes available to try.  Which one will be your favorite?  Perhaps it will be Patty Hinegardner's no-bake "Cheese Cake."  If you try it make sure you let the current Associate Director of Resources know what you thought of her creation – that's right Patty is still a big part of the HS/HSL team!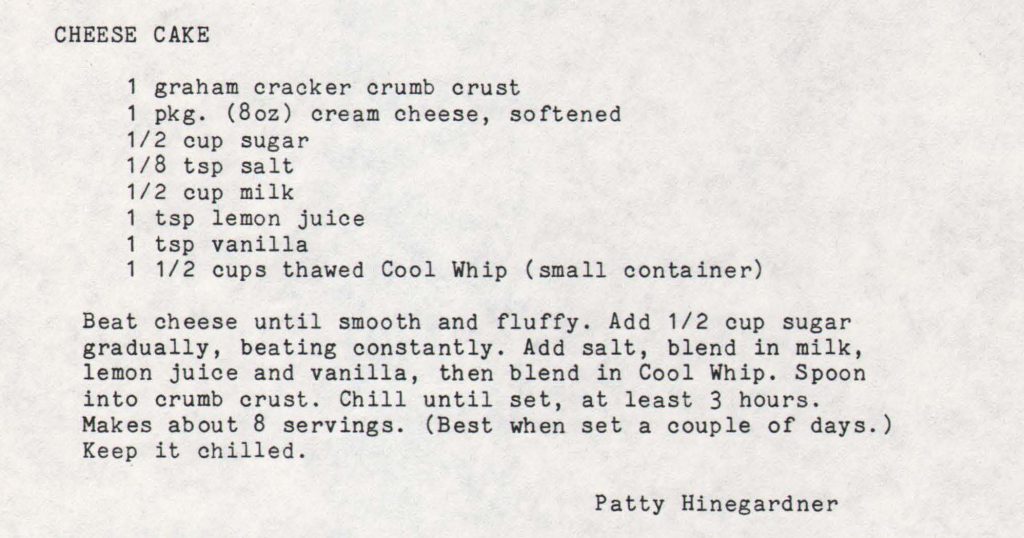 Perhaps you want to bring a bit of the tropics to your holiday table.  Again, this cookbook saves the day with two Pina Colada recipes – a pie by School of Medicine Liaison Librarian, Paula Raimondo and a cake—complete with dark rum—by Access Services staff member, Loie Heimbach!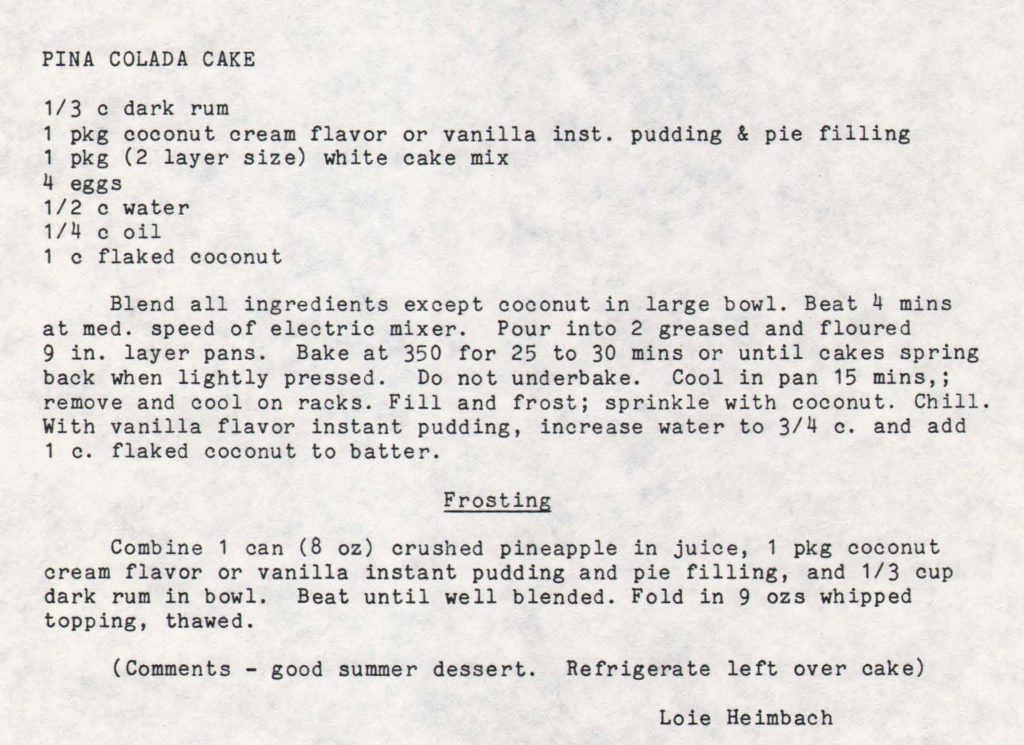 As the weather turns colder and the winter months arrive, maybe it's time for a new soup recipe?  Try Mary Ann Williams' Cream of Crab Soup.  Mary Ann, the current Research, Education & Outreach Librarian for the School of Dentistry would be thrilled to see her recipe's used by today's UMB campus members!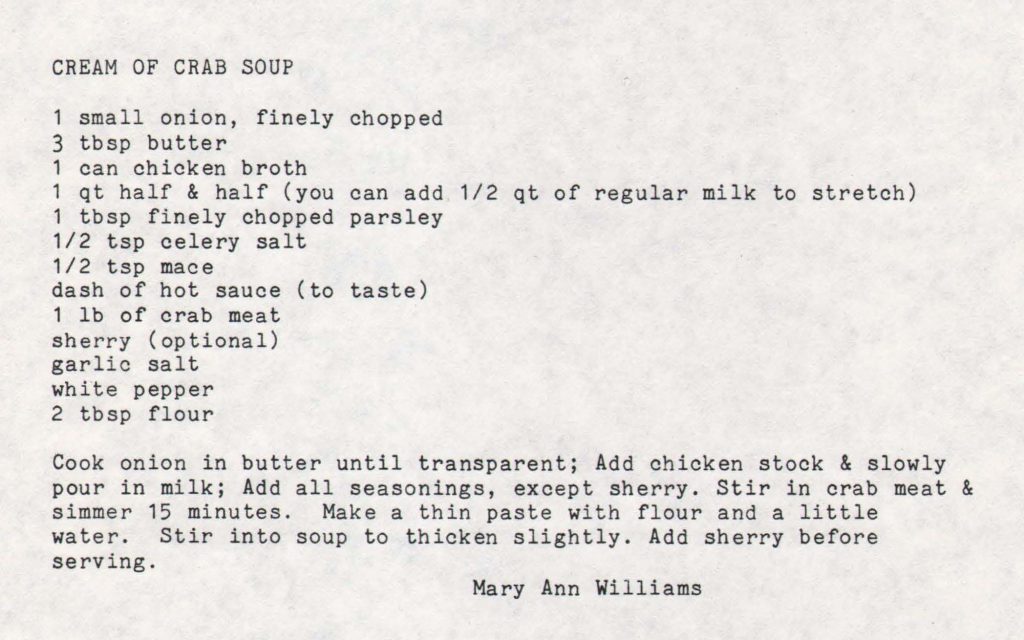 The HS/HSL looks forward to seeing your photographs on Instagram, Facebook, and Twitter so be sure to tag us @umbhshsl.  We look forward to hearing how our recipes inspire your creativity and build new socially distanced holiday traditions with your loved ones.  Happy Thanksgiving from the HS/HSL!
Check out the complete cookbook here: http://hdl.handle.net/10713/5952.