The Health Sciences and Human Services Library Historical Collections' strives to provide broad access to our diverse collections both in person and digitally. Materials in our collections appear as they originally were published or created and may contain offensive or inappropriate language or images and may be offensive to users. The University of Maryland, Baltimore does not endorse the views expressed in these materials. Materials should be viewed in the context in which they were created.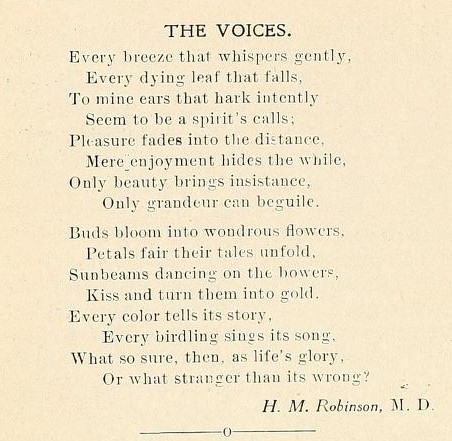 Medical schools traditionally have emphasized science education over the humanities yet there is research that suggests the importance of the written word and visual arts in medical training.  In his 2007 article in Writer, Dr. Peter Pereira describes the value of both science and the arts in medical training, "… strictly speaking, medical practice is not a science. It is an interpretive art. In health care, the ability to empathize and intuit can be just as important (even more important) in diagnosis and treatment as scientific data and logical deduction."  Dr. Pereira argues that his abilities as a poet have made him a better doctor making him able to listen more intently to his patients and empathize with them.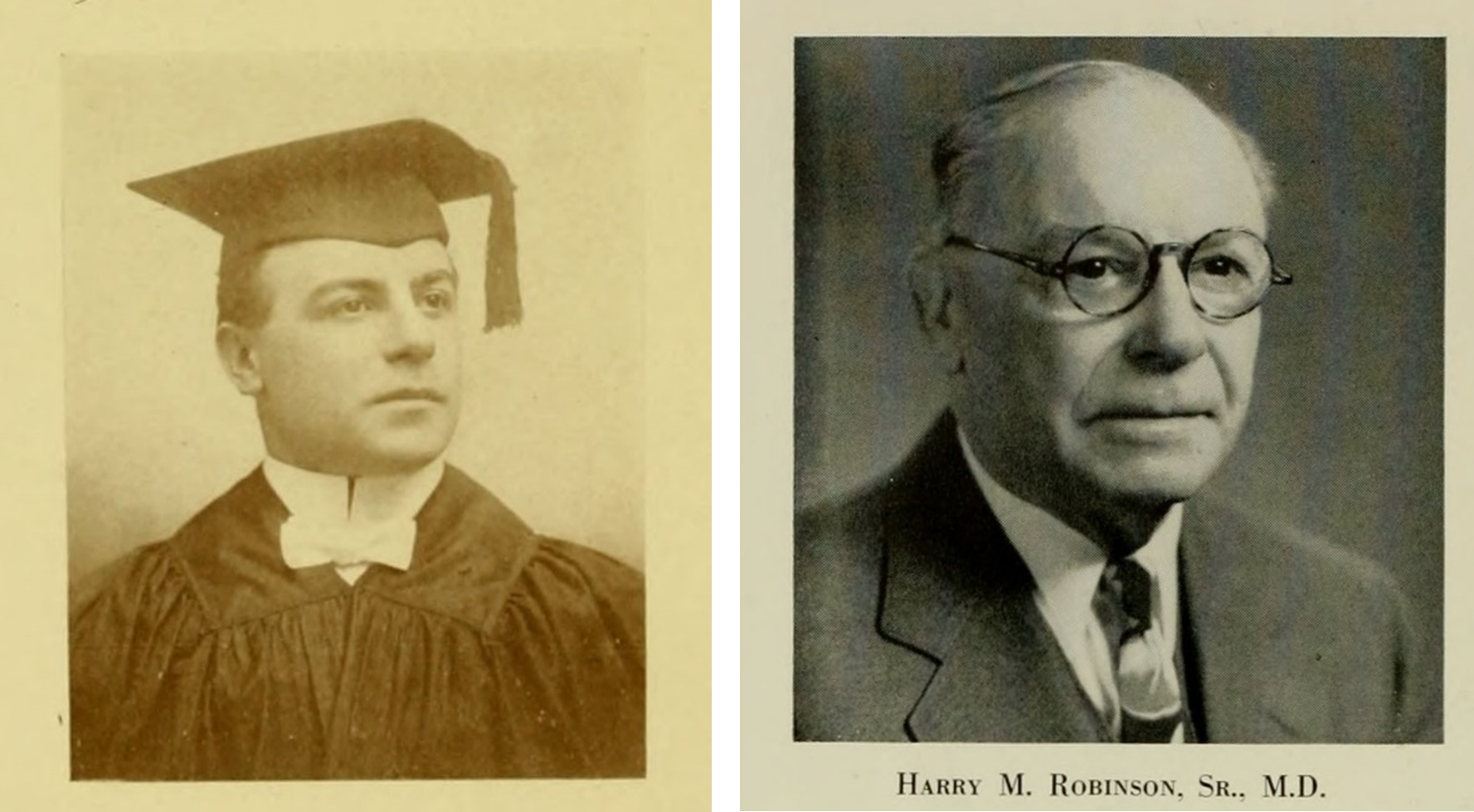 While the School of Medicine at UMB has not had many humanities courses during its history; students and faculty have found ways to exercise their creative minds through campus groups, publications, and other avenues. Thus, UMB has seen its share of poets, musicians, and artists.  Last year for National Poetry Month, historical collections highlighted some of these talented individuals found in its holdings in posts about the 1905 University Ode and 1904 "Her Smile."  This year the collections are highlighting the works and life of Dr. Harry M. Robinson, Sr.
Dr. Robinson was born in Cincinnati, Ohio in 1884.  He attended public schools in New York City as well as the Oxford School for Boys before entering New York University as a pre-med student. He entered the University of Maryland, School of Medicine in 1906.  While a student, he played football both collegiately and semi-professionally to earn money for Medical School.  He was responsible for reconstituting the University's basketball team in 1907 and continued to manage the team until his graduation.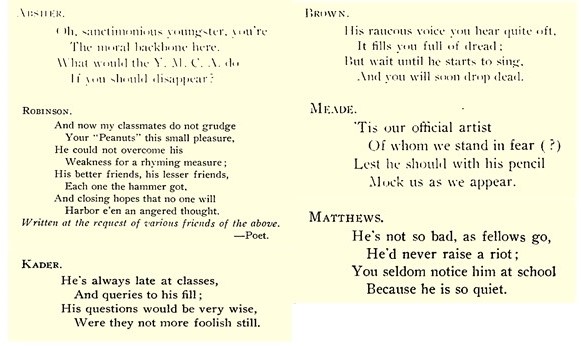 Dr. Robinson was also the president of the University's Athletic Association and served as Secretary and Vice-president of the Y.M.C.A.  While an underclassman, Robinson was an associate editor of Old Maryland, the University's newsletter where his poems appeared frequently as a student and later as an alumnus.  He was also the SOM's senior class poet and editor of the Terra Mariae Yearbook in 1909.  As the class poet and yearbook editor, Dr. Robinson, wrote poems for each of his SOM classmates for the 1909 Terra Mariae.  The poem below was published in the Baltimore Sun while Dr. Robinson was in his second year of medical school.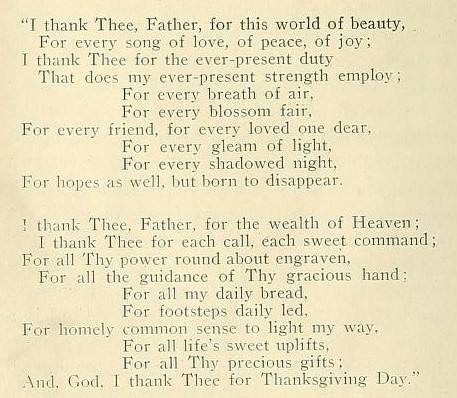 In 1907, while Dr. Robinson was in his second year at the University of Maryland, the school celebrated its 100th Anniversary.  The Centennial Celebration included a four-day celebration complete with the first all-school graduation and a trip to the Arts and Sciences arm of the University—St. John's College in Annapolis, MD.  Dr. Robinson's poetry honored the University's birthday in the May 1907 Old Maryland newsletter.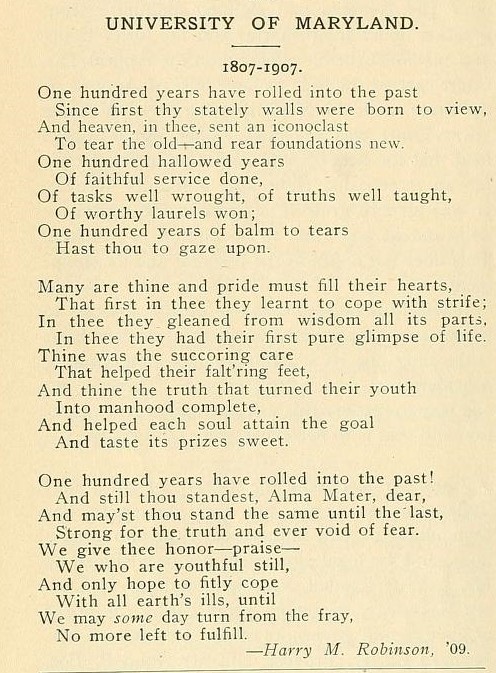 Dr. Robinson graduated in 1909.  Following graduation, Dr. Robinson continued his medical education at both Hopkins and University (Maryland) Hospitals where he specialized in Dermatology and Syphilology.  He passed his medical boards in 1933 and soon after (1937) joined the faculty as Professor of Dermatology at the University of Maryland, School of Medicine.  He remained at Maryland until his retirement in 1954 and was an instructor in syphilology at Johns Hopkins University.  The 1954 Terra Mariae yearbook was dedicated to Dr. Robinson and included the following poem: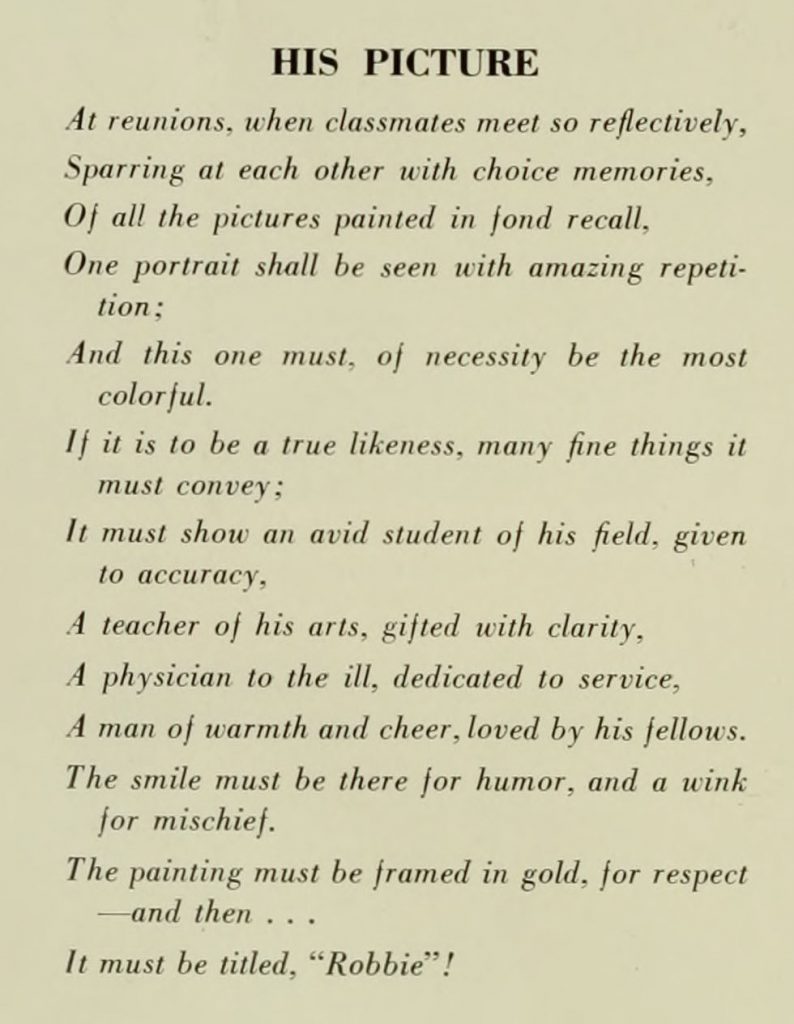 Dr. Robinson married Verna Beatrice Wilson in 1909 and had two sons, Dr. Harry M. Robinson, Jr. and Dr. Raymond C.V. Robinson.  In addition to his work in dermatology and studies in Syphilis, Dr. Robinson published six volumes of poetry, and was an avid art collector.  He served as editor in chief of the University Gazette, the University's newsletter, from 1914 to 1915, where he continued to publish his poems. Dr. Robinson passed away in March 1963, at the time of his death, he was married to Mary V. Ryan Robinson.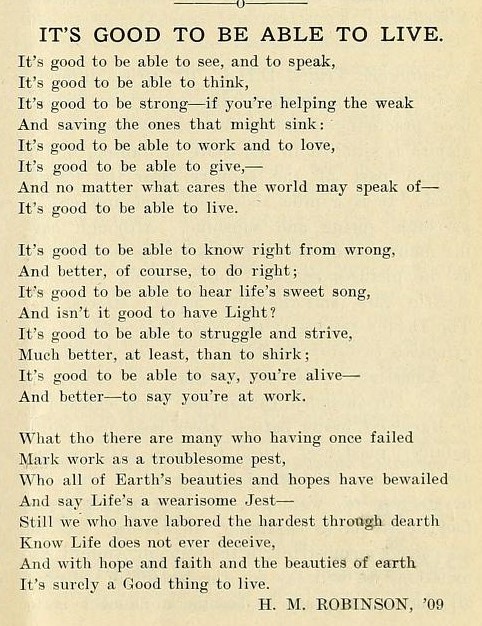 Sources and Additional Reading:
"Dr. Robinson Rites Today: Hopkins, Maryland Emeritus Died Sunday at 78." (March 20, 1963) The Sun; ProQuest Historical Newspapers: The Baltimore Sun, pg. 19.
Old Maryland, 1907-1908
Old Maryland, 1909-1910
Terra Mariae Yearbook, 1909
Terra Mariae Medicus Yearbook, 1954
University Gazette, 1914-1915