Blog post researched and written by Summer 2022 YouthWorks Intern, Anisah Allen. Anisah worked in the HSHSL's Information Services and Historical Collections Departments. Anisah is a student at the University of Maryland Baltimore County. During her internship she completed the digitization and transcription of Margaret Bowen Rose's 1936 School of Nursing Scrapbook.
The Health Sciences and Human Services Library Historical Collections' strives to provide broad access to our diverse collections both in person and digitally. Materials in our collections appear as they originally were published or created and may contain offensive or inappropriate language or images and may be offensive to users. The University of Maryland, Baltimore does not endorse the views expressed in these materials. Materials should be viewed in the context in which they were created.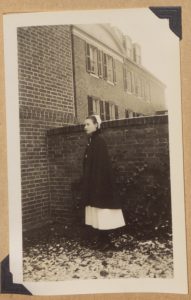 Scrapbooking in the 21st century has become somewhat of a lost art but remains a very powerful historical tool. With a combination of journal entries and photographs, they give a great deal of insight into not only the look and feel of the time period they were created, but also of the person who created them. Margaret Bowen Rose, possibly unknowing of this significance, created such a document for her Class of 1936 at the University of Maryland School of Nursing. The most exciting thing about this book's donation is that our Historical Collections does not currently have yearbooks for the years of 1933-1946 at the University. Margaret's unique perspective is the closest insight we have to the experiences of our students during that period.
Included in the book are endearing descriptions of her classmates, photographs of them, and even a class prophecy showcasing their future goals after graduating. Though Margaret wanted to enroll in an Alaskan nursing program with classmate Vernice Bowling, both ended up enlisting in military service in the 40's during the Second World War. Including herself and Vernice, four members of the class of '36 were stationed in Australia for one year working in a hospital setting and tending to wounded soldiers. As for those who did not enlist, some were married, while others worked at hospitals a bit closer to home. Margaret wrote about her duties in the School of Nursing Alumnae Association Bulletins, telling after necessary emergency care soldiers received "baths, food, rest, and mothering" from the nurses, who were honored to help.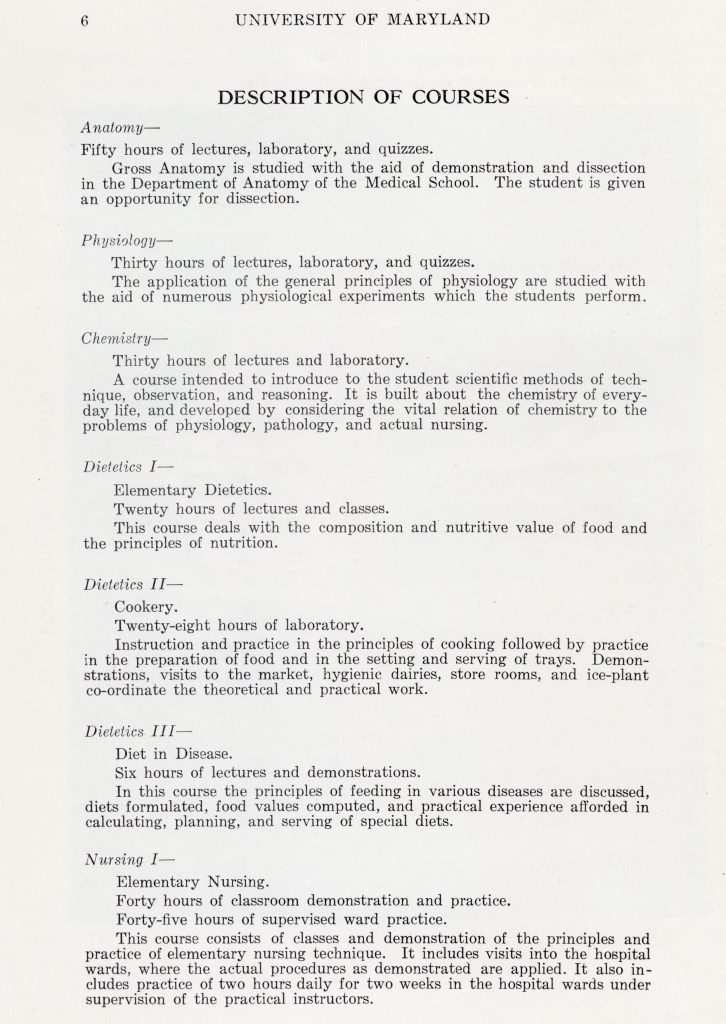 They would have been well prepared for their work abroad considering the experience they gained while still in university. A booklet can be found on page 66 of Margaret's scrapbook giving details as to what students would be learning at the School of Nursing, with courses such as Materia Medica, Ethics, and Pathology. The program isn't too dissimilar to what you could expect from a Bachelor of Nursing today, save for the perceived role of a nurse in hospital care. Classes found in the booklet seem to place a greater emphasis on the hospitality needs of the patient, whereas today's course content encourages collaboration between doctors and nurses in diagnosis and treatment. The world of nursing has surely changed between Margaret Bowen Rose's time and our own, and her 1936 scrapbook has proven itself invaluable as a window to the past.
To see the full Scrapbook as well as other School of Nursing and UMB historical pieces check out our Digital Archive!