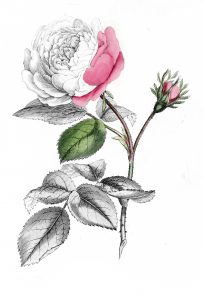 Since 2016, the New York Academy of Medicine (NYAM) has celebrated Color Our Collections the first full week in February. The event highlights the beauty and creativity of archival, museum, historical society, and library collections from around the world. In the past, the HSHSL has shared our 2020 Coloring Book inviting people to color botanicals from our Historic Pharmacy Collection.
This year we are sharing PDFs of coloring sheets from a variety of materials and collections in our repository. These sheets include hand drawn images from our collection of Yearbooks from the University of Maryland, Baltimore; the College of Physicians and Surgeons; and the Baltimore College of Dental Surgery. Other sheets feature images from the Historical Collections' Anatomy volumes and as well as additional botanicals not featured in the 2020 coloring book.
The HSHSL invites all to download the sheets below (simply click on an image and right click to save) and color. Please share the masterpieces with the HSHSL on Facebook, Twitter, or Instagram using the hashtag #ColorOurCollections.
Questions about any of the images please contact Historical Collections Librarian and Archivist, Tara Wink.