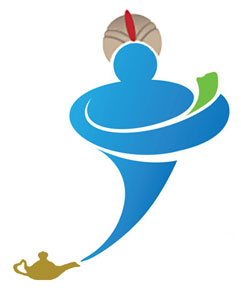 Last October, the Library Genie visited for a second time. He asked for your 3 library wishes, and you responded. A year later, we can happily say that 3 of your library wishes have been granted (with more to come):
You asked for a charging station for your electronic devices.

 

HS/HSL now has a charging station with 8 lockers to securely charge your phone or tablet.
You asked for an off-campus log-in button.

 

There is now a big blue log-in button on the HS/HSL's homepage so that you can authenticate before starting your work.
You asked for more comfy chairs and rolling white boards.

 

More rolling white boards have been placed on each floor, and soon to arrive are 20 high-back comfort armchairs that can be wheeled around the 1st and 2nd floors for you to relax in.
The Library Genie will be accepting wishes from October 1 to 31. Look for our online form October 1.
What could the Library offer on the 1st floor that would enhance your learning experience?
Are there any new technologies you would like to see the Library offer?
What about other resources and services the Library could provide?