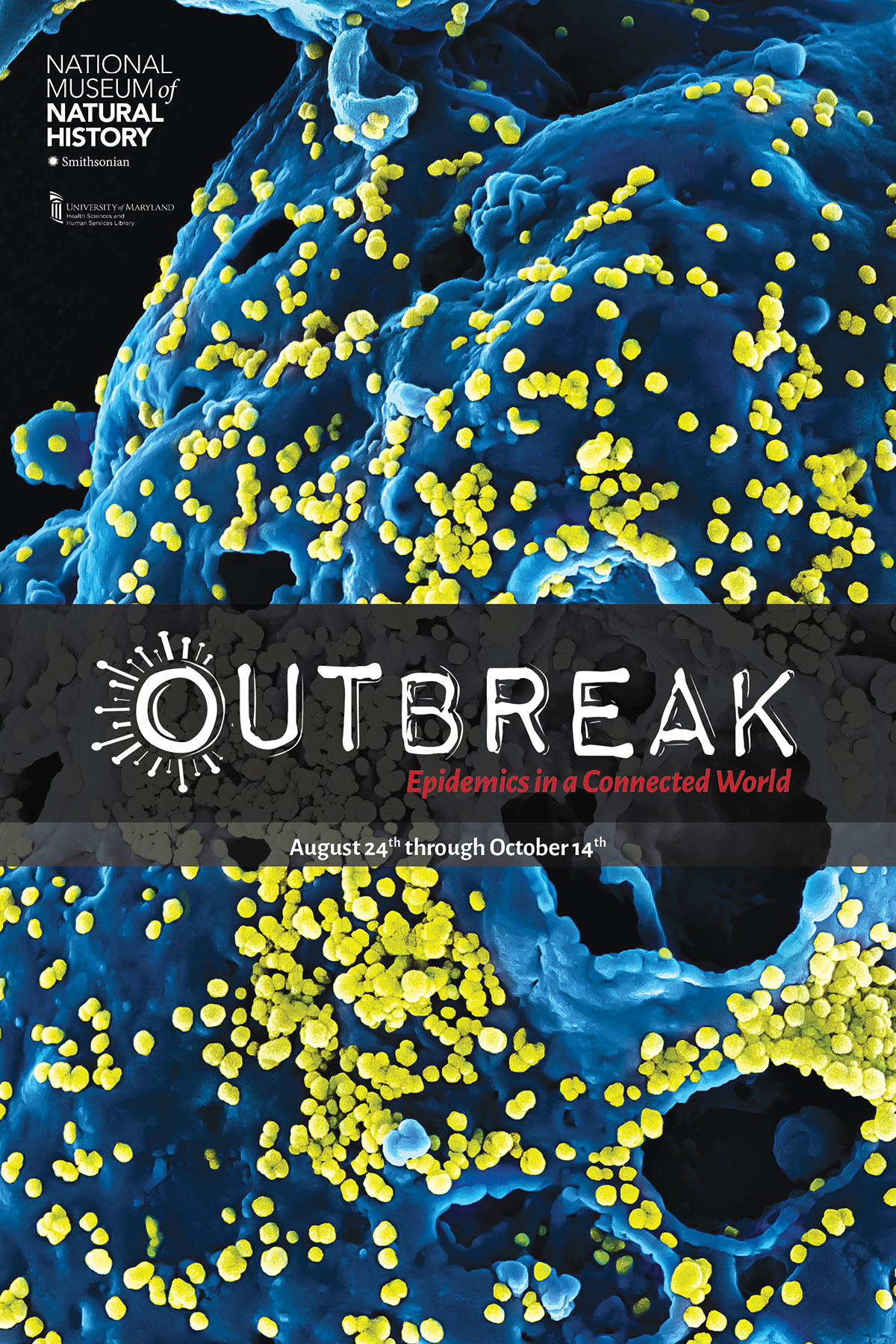 Outbreak: Epidemics in a  Connected World is an exhibition created by the  Smithsonian's  National Museum of Natural  History (NMNH) in  Washington,  D.C.    This three-year exhibition marks the 100th anniversary of the devastating 1918 influenza pandemic. The exhibit, adapted for use by the Health Sciences and Human Services Library (HS/HSL), will be on display in the Library's Frieda O. Weise Gallery, August 24, 2018 – October 14, 2018.
The main message of the exhibit is "One Health," which is derived from the understanding that human health, animal health, and environmental health are closely connected.  Outbreak: Epidemics in a Connected World emphasizes the importance of interdisciplinary responses to stop outbreaks— and the impact those outbreaks have on communities.
Outbreak examines zoonotic emerging infectious diseases (EIDs) and their pandemic risks in the 21st  century.  NMNH collaborated with public health institutions to address these questions: Why do pathogens emerge where they do?    How do they "spill over" from animals to people?  What causes them to amplify and spread quickly?  And finally, what can individuals and communities do to prevent the next outbreak?
The Outbreak exhibition project is a collaborative effort between the Smithsonian's  National Museum of Natural History and global partners to raise awareness of the human,  animal, and environmental factors contributing to infectious disease epidemics.
The 1918 Flu Epidemic and Baltimore: 100 years later
In conjunction with the Smithsonian's Outbreak exhibit, the HS/HSL has created a supplementary exhibit remembering the 1918 Flu Pandemic.  This year marks the 100th anniversary of the pandemic that killed between 50 and 100 million people worldwide.  Baltimore and the University of Maryland, Baltimore were not immune to this incredible international natural disaster.  This exhibit explains the spread of the disease in Baltimore and at the University, while supplying a supporting story to the Smithsonian's "connected world" message.
Upcoming Events for Outbreak: Epidemics in a Connected World

Thursday, September 13, 10:30 a.m.  Exhibit Opening, Press Conference, located in the HS/HSL's Weise Gallery on the first floor.  Please RSVP HERE. Refreshments will be served.

Thursday, October 4, 10:00 a.m. – 2:00 p.m. – Flu shots available to UMB campus employees and students in the 1st Floor Tower of the Library.  Please bring your insurance information. Flu clinic provided by Walgreens in collaboration with the School of Pharmacy and the HS/HSL. Please RSVP HERE.

Friday, October 5, 11:45 a.m. – 1:00 p.m., HS/HSL Gladhill Boardroom, 5th floor,  a light lunch will be served and Philip A. Mackowiak, '70, emeritus professor of medicine and the Carolyn Frenkil and Selvin Passen History of Medicine Scholar-in-Residence will present, "The 'Spanish Flu' of 1918,  What's Past is Prologue."  RSVP to events@hshsl.umaryland.edu