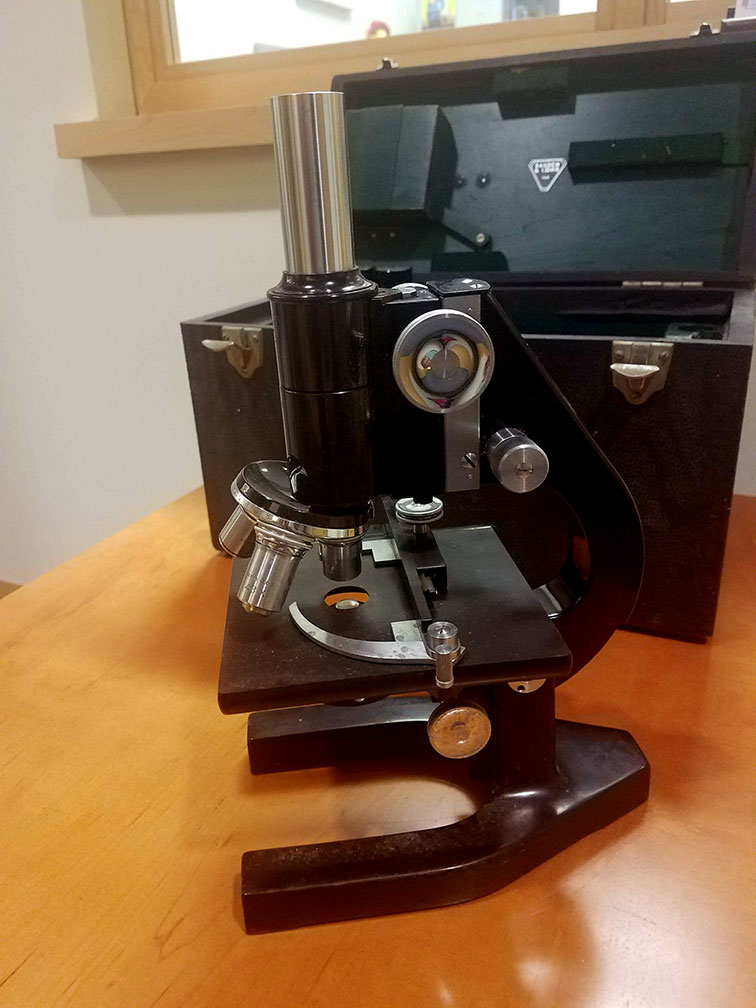 On Monday, November 5, 2018, the Historical Collection of the HS/HSL received a 1923 Bausch & Lomb Microscope from Anne Elizabeth Langalis, Granddaughter of Dr. Walter Hal Shealy.
Dr. Walter Hal Shealy was born in Leesville, SC on August 2, 1897.  He attended Newberry College for his undergraduate degree and joined the Marine Corps, serving in World War I.  Following his war service, he attended and graduated from the University of Maryland School of Medicine in 1923.  While at the University of Maryland, he served as Class Treasurer from 1919 to 1920 and joined the Phi Beta Pi Fraternity.
Following graduation, Dr. Shealy worked at the Maryland General Hospital before becoming a general practitioner in 1928 in Sharpsburg, MD.  He also served as a doctor at the Maryland Correctional Institution and was an active member in service and professional organizations.  Dr. Shealy passed away on April 15, 1966.
Bausch & Lomb microscopes were produced by Bausch & Lomb Optical Company of Rochester, NY.  The company, started by John Jacob Bausch and Henry Lomb, began producing microscopes in 1874 and was the third biggest producer of microscopes during the 20th Century.  Today Bausch & Lomb are no longer producing microscopes; the final microscopes were produced by the company in the 1990s.