Do you have a dataset you've been meaning to share, but just haven't gotten around to it? Now is a perfect time!
Results of a recent survey on how life scientists have adapted to COVID-19 restrictions indicate that 43% of respondents are spending more time on data analysis.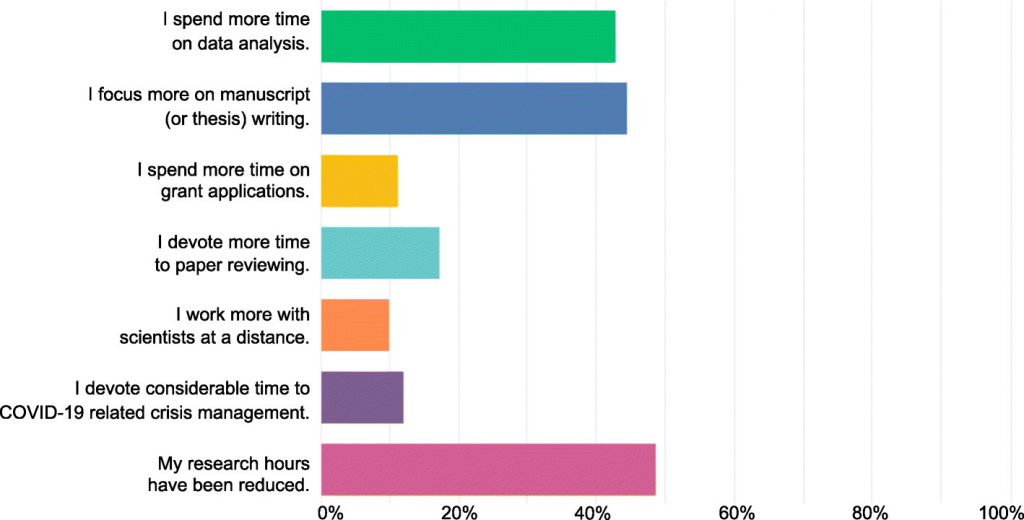 The task may seem daunting, but we at the HS/HSL are here to help! Contact us if you want to talk about:
Finding the right repository: There is an ever-increasing number of options out there for sharing and storing data. We can help you sort through these options, and find an appropriate fit for your data that takes into account funding or publisher requirements, discipline, size, privacy requirements, data type and more!
Creating documentation for your data: Don't send your data out into the wild without a good description. We can help you craft a README file or data dictionary to add context to your dataset. Well-described data is happy data!
Listing your data in the UMB Data Catalog: The UMB Data Catalog is a resource that aims to facilitate the discovery of datasets created by or used by UMB researchers. The catalog is not a repository to store datasets; it describes them. By having a record for your dataset in the Data Catalog, you can increase the visibility of your research on campus and beyond. Datasets are discoverable through a search in the UMB Data Catalog, Google's Dataset Search (beta) and Google. Use the link to your dataset record in articles, CVs, and your web profile.
Read more about Bioinformation and Data Services at the HS/HSL.
Request a consultation or submit your dataset to the Data Catalog.
References
Korbel, J.O., Stegle, O. Effects of the COVID-19 pandemic on life scientists. Genome Biol 21, 113 (2020). https://doi.org/10.1186/s13059-020-02031-1