The Health Sciences and Human Services Library Historical Collections' strives to provide broad access to our diverse collections both in person and digitally. Materials in our collections appear as they originally were published or created and may contain offensive or inappropriate language or images and may be offensive to users. The University of Maryland, Baltimore does not endorse the views expressed in these materials. Materials should be viewed in the context in which they were created.
The 2020 Summer Olympic games are well underway in Tokyo, Japan. To commemorate the games, Historical Collections in the HSHSL is highlighting two early Japanese graduates.
For the majority of its early history, the University mostly served students in Maryland and the surrounding states. The first international students, Archibald Spring from England and Duncan Turnball from Scotland, graduated from the School of Medicine (UMSOM) in 1822. The first non-European, international graduate was Levi S. Parmly of Cuba in 1841. Parmly graduated from the Baltimore College of Dental Surgery (BCDS), the first dental school in the world, which merged with the University of Maryland in 1924.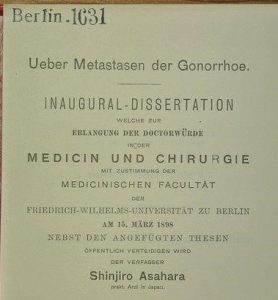 Over fifty years later, Shinjiro Asahara became the first Japanese graduate. He graduated from the Baltimore Medical College (BMC), which merged with the UMSOM in 1913. Asahara came from Tokyo, Japan where he attended the Medical Department of the First Higher Middle School for four years prior to entering the BMC in October 1894. Following graduation, Dr. Asahara attended the Friedric-Wilhelms University of Berlin, earning his degree in 1898. His dissertation titled Ueber Matastasen der Gonerrhee was cited into the 1910s. He became an assistant professor in the College of Medicine at the Tokyo Imperial University of Japan.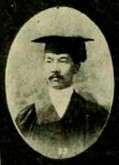 Tameji Takashima was the first Japanese graduate of the University of Maryland. Takashima earned his degree from the School of Dentistry (UMSOD) in 1899. Takashima was an excellent student, earning perfect and nearly perfect scores in most of his senior-year examinations. In Takashima's junior year he was awarded the Gold Medal Prize for the "best continuous gum-work" and in his senior year he earned two awards: the Dr. Clarence J. Grieves' Gold Medal for best senior class bridge work and the S.S. White Prize for best upper set of gum teeth on metal. Several of his specimens were used in the UMSOD museum following his graduation.
According to Historical Collection's Alumni Database, from 1902 to 1919, eight more Japanese men graduated from the BMC, BCDS, and UMSOD. By the late 1970s, graduates' homes were no longer tracked in the graduate database.
List of Japanese Graduates from UMB Schools 1895-1919

Last  Name

First Name

Second Name

Third Name

Home

School

Class

Asahara

Shinjiro

 

 

Japan

BMC

1895

Hayaishi

Jitsuza

 
 

Japan

BMC

1911

Ishibashi

Bennoshin

 
 

Japan

UM Dent

1918

Matsutani

Masatoshi

 
 

Japan

UM Dent

1919

Okugawa

S.

 
 

Japan

UM Dent

1914

Takashima

Tameji

 
 

Japan

UM Dent

1899

Tanaka

Shintaro

 
 

Japan

BMC Dent

1903

Teraki

Sadayoshi

 
 

Japan

UM Dent

1907

Thomas

J

D

V

Japan

BCDS

1902

Watanabe

Yoshi

O

 

Japan

BMC

1904