In recognition of Celebrate Diversity Month in April, the HSHSL Diversity Committee and the Exhibits, Displays and Promotions Committee plans to honor the diversity of our campus with an exhibit called Woven Stories: Out of many, we are one.  To support the exhibit, the HSHSL is seeking photograph submissions of items culturally significant to campus members.  Culture is broadly defined as encompassing the social behavior and norms found in human societies, as well as the knowledge, beliefs, arts, laws, customs, capabilities, and habits of individuals.  Photographs for the exhibit should be of one item that represents your culture.  A few examples of submissions could be recipes, books, art, food, creative work, clothing, sheet music, instruments, or textiles. However, you can be as creative as you like. This is an opportunity to display what's culturally significant to you.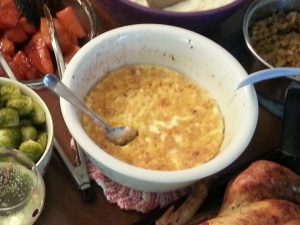 For example, let me introduce myself.  I am Tara Wink, Historical Collections Librarian and Archivist, a native of Lancaster County, Pennsylvania with family roots that run deep in that area so much of my culture is tied to Pennsylvania Dutch traditions.  Baked corn is a Pennsylvania Dutch recipe.  For me, Baked Sweet Corn is always a staple at my family's holiday celebrations.  It's a dish that always elicits fond memories and comfort: memories of home and family, laughter and warmth.  My grandma traditionally makes it and while I have tried to follow her recipe and advice it never quite tastes the same. 
Lancaster County, Pennsylvania is traditionally known for its Amish and Mennonite populations.  As a child, I was babysat by a Mennonite on her farm, as a result, I am privy to the process of making the dried corn used in Baked Corn.  During the peak summer season corn is abundant, in order to preserve it in ways beyond freezing and canning, my babysitter would cut the corn off the cob and dry it over a series of days on a large flat pan over the stove; as a child I was known to steal a few kernels of corn as it dried.  After several days the corn is hard and can be stored in airtight bags and containers for the winter months.  The baked corn dish served at family events brings with it memories of these summer days as well.
As a representative of the HSHSL Diversity Committee and the Exhibits and Displays Committee, these are just a few of the things that are culturally significant to me, and I am thrilled to see a project that will weave all our diverse experiences into one.
To submit your own photographs and memories, go to the Woven Stories page.  Submissions should be in the form of a photograph and a paragraph describing its importance to you.  Photographs should be at least 1200 x 1200 pixels.  Multiple submissions are welcome and can be made anonymously by leaving the name and email fields on the form blank. 
For questions or concerns, contact: diversity@hshsl.umaryland.edu.