April 2022 marks Diversity Month.  The HSHSL is celebrating with stories collected from the campus community as part of our Woven Stories: Out of many, we are one project. This story from Tiffany Chavis, Health Literacy Librarian, Region 1, Network of the National Library of Medicine, shares the story of her family home in Baltimore. The following is Tiffany's story of her family's home and the importance of place: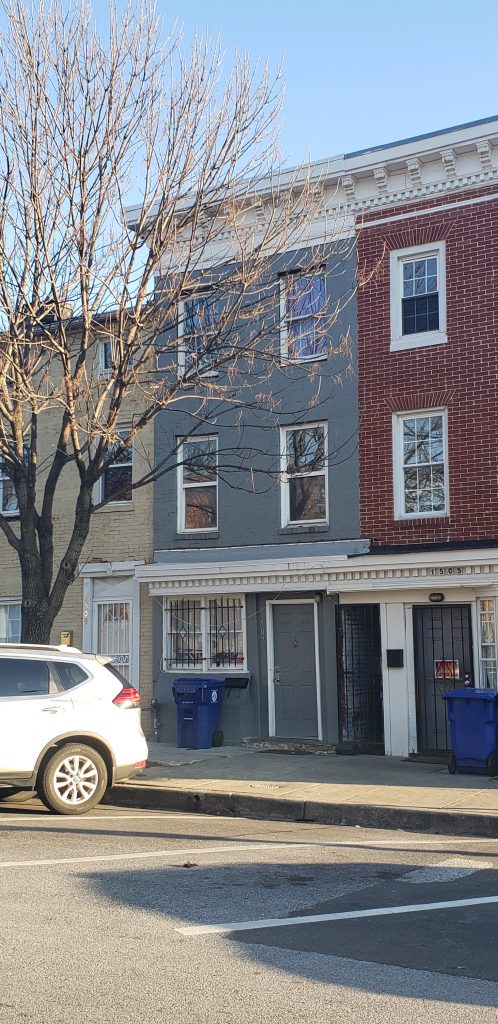 I am a Baltimore City native, in more than one way. The house in the photo is the home where I came of age. Both of my parents migrated to Baltimore City from North Carolina. My mother was from a little town in the mountains called Lenoir. My father came from Robeson Co. in the Coastal Plain region of North Carolina, which is home to the American Indian Lumbee Tribe. My father was a Lumbee. Though they did not know each other then, both of their families were poor and moved here in the 1960s looking for work and a better life.
Poverty is never easy on anyone, but segregation and Jim Crow certainly did not help. Where the Lumbee is from, things were segregated in threes, for Whites, Blacks, and Indians. This home has been in the family since my paternal grandparents bought it. It was the first home they bought in Baltimore, and maybe their overall first. Not only me, but many of my very large extended family spent time here. Not just for holidays, but just stopping by when walking in the neighborhood.
Before gentrification, Fells Point was very diverse. It was filled with people of all colors, cultures. Many were immigrants from Germany, Italy, and counties in Eastern Europe. Hearing languages other than English was not uncommon. One can still find lingering evidence all over Southeast Baltimore. My parents immigrated to Baltimore at the tail end of the Great Migration. My family was just one of many who came to Baltimore looking for the "American Dream." Many Lumbees migrated here to Fells Point and the surrounding areas in Southeast Baltimore to escape Jim Crow and the intense work in the cotton and tobacco fields of North Carolina.
I still have the home since it holds so much sentimental value to me (this I do not recommend). This was the first home my paternal grandparents bought in Baltimore and the first and only house my parents ever bought. Multiple generations have laughed and cried in this house. While I do not live in Fells Point anymore, and despite it having changed so much over the years, this house and Fells Point, Southeast Baltimore for that matter, will always be my home.
For more information about the Lumbee Indian in Baltimore, please visit www.baltimorereservation.com.
Fun Fact: While the Chavis family lived in the home, the house enjoyed its 15 minutes of fame when it was used to film a portion of the original movie Hairspray (1988). https://www.youtube.com/watch?v=BcFfFglBZjM.
Interested in sharing your own story?  We are still accepting stories for this project in the hopes of launching a digital and physical exhibit. Woven Stories aims to capture the cultural diversity of the individuals that make up UMB's campus.  Share your own story to be part of the HSHSL's project by submitting a photograph and brief description here.