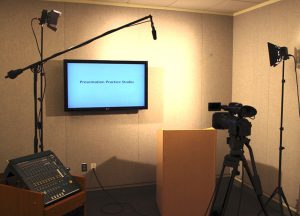 Try out the *new Canon video camera that records directly to SD cards in MP4 format so that you can upload your recording directly to Blackboard.
The Presentation Practice Studio provides University of Maryland, Baltimore students, faculty, and staff with the space and technology resources to practice, record, and develop presentations as well as to refine public speaking skills. Read about the studio's equipment and software and guidelines for use on the studio's webpage.
The studio has the technology and our staff have the know-how to help you practice and deliver the best presentation possible. You also can record and edit your own videos or audio recordings with professional tools, such as Adobe Suite and Sony Suite.
Services for audio and video recording and editing, instructional technology-related assistance, and onsite IT support are available. Fees may apply.
*The new technology was made possible by the generosity of donors through the UMB Foundation. If you would like to support projects such as these, please visit GiveCorps or contact us at (410) 706-7545.