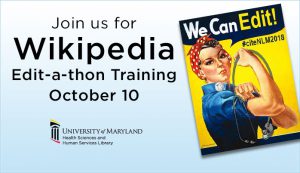 Prior to the Nov. 7 Edit-a-thon, the HS/HSL will provide a Wikipedia training to help users learn how to create a Wikipedia account, make edits, and use NLM resources to improve the world's largest encyclopedia. The training will take place on Oct. 10 at the HS/HSL in Room LL05 on the Lower Level from 11:00 AM to 12:30 PM, register now!
To learn more about Wikipedia and the impact it has had globally, you can watch the recording of last year's Wikipedia training from Dr. James Heilman.
Then, on Nov. 7,  health professionals, students, and librarians from all over the country will join forces for an all-day edit-a-thon. Participants will edit Wikipedia articles on women's health topics and improve citations using trusted National Library of Medicine (NLM) resources. The HS/HSL is hosting a two-hour drop-in session with librarians from the HS/HSL and the National Network of Libraries of Medicine. If you are unable to attend the event, you can still participate virtually all day.