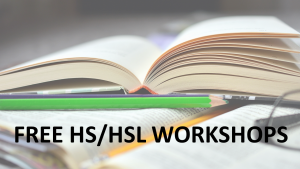 The HS/HSL offers a variety of free workshops to faculty, students, and staff. Classes are offered online and in person.
Spring 2019 topics include:
Managing citations using EndNote, Zotero, or Mendeley
Introduction to conducting systematic reviews
Graphic design principles in PowerPoint presentations
Choosing the right journal for your research
Enhancing your research impact
Open access and predatory publishing
See the full schedule and registration information.