As April 2022 and Celebrate Diversity Month comes to a close, we share M.J. Tooey, Associate Vice Provost and Dean of the HSHSL's, Woven Stories' submission. Here M.J. shares the recipe and memory of her mother's poppyseed rolls, a special, Tooey-family holiday tradition.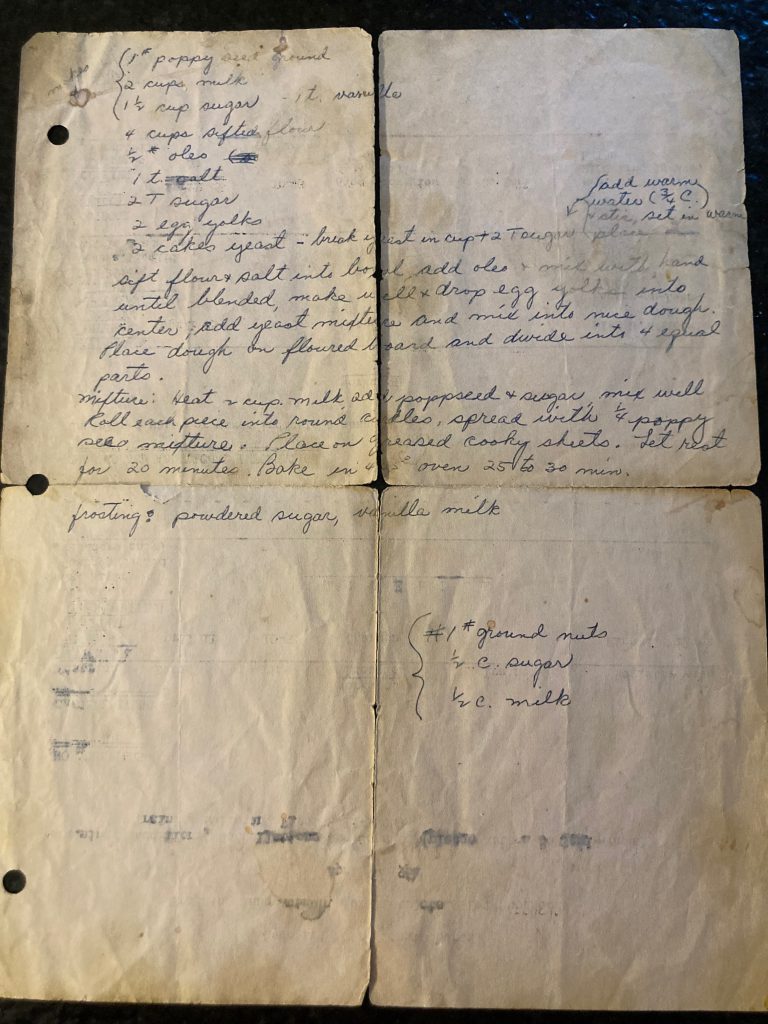 This fragmented and faded piece of paper is my mother, Anne Tooey's, poppyseed roll recipe. This was her signature holiday recipe. Every year she would send my father to the Southside of Pittsburgh, the Polish neighborhoods, to buy fresh poppyseed and have it ground as the base for her filling. No canned fillings for her.
We knew to stay out of her way when she started baking the poppyseed rolls. This was all consuming and I realize now, a labor of love. The rolls were perfection – just the right proportion of poppyseed filling to the yeast dough. A much anticipated and much‐loved Christmas treat.
My mother died in 1989 and there were no more poppyseed rolls. We didn't know where the recipe was kept and couldn't find it anywhere. Fast forward a few years and as I was leafing through one of my mother's cookbooks, I found the recipe tucked in an obscure page. Imagine my surprise and delight. I was going to make the poppyseed roll!
By then I was living in Baltimore and by then time had marched on and it was difficult to find fresh poppyseed and have it ground. I was out with a friend and dragged him to a neighborhood in East Baltimore and found the poppyseed, but couldn't have it ground. I was on a mission. Oh my goodness! I ground the poppyseed in my blender.
In my eagerness and joy, I forgot the amount of time it took my mother to make these rolls. Making the filling from scratch. Waiting for the yeast dough to rise. Rolling the dough out. That's when I realized it was indeed a full‐day labor of love.
My rolls were all right, but they weren't my mom's. And I have never made them again. Sometimes things are better left in your memory.
Food has been a reoccuring theme in the submissions received thus far for Woven Stories. Each and every culture has it's own cuisine and specialities, from traditional holiday dishes to everyday meals and snacks. Do you have a favorite food, recipe, or dish that reflects your personal culture?  Share it with the HSHSL today! Submit a photograph and brief description here and be part of this incredible project!