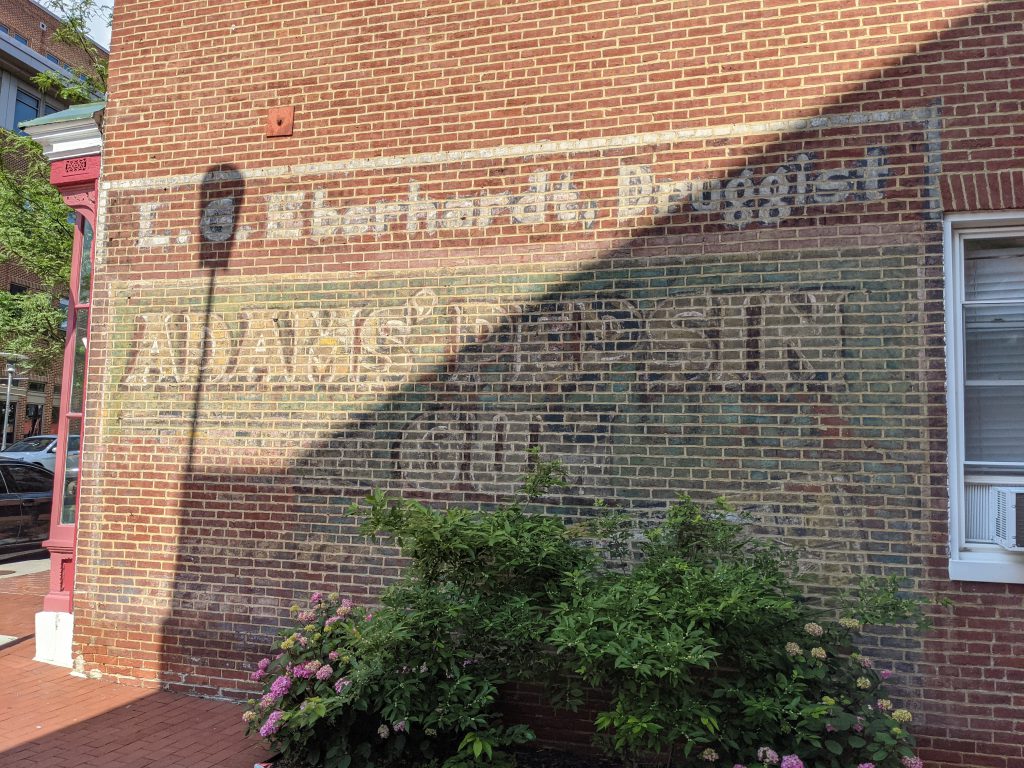 The Health Sciences and Human Services Library Historical Collections' strives to provide broad access to our diverse collections both in person and digitally. Materials in our collections appear as they originally were published or created and may contain offensive or inappropriate language or images and may be offensive to users. The University of Maryland, Baltimore does not endorse the views expressed in these materials. Materials should be viewed in the context in which they were created.
If you have walked along Lexington Street on the University of Maryland, Baltimore's (UMB) Campus you have most certainly passed the L.G. Eberhardt, Druggist store sign painted on the side of 631 West Lexington Street. While faded the sign is still legible and is one of many "ghost" signs in Baltimore; these signs advertise a bygone or ghost establishment and remind us of the rich history in this city.
The sign is also part of a historic section of Lexington Street, known as the Rieman Block after Joseph Rieman (1822-1898), a real estate developer. The block from 617 to 631 West Lexington Street between Pearl and Arch Streets is now owned by UMB and is on the National Register of Historic Properties. The Rieman Block was constructed in the 1880s and at the time were the most elaborate buildings around Lexington Market.  The Rieman family owned the buildings until 1952.
The L.G. Eberhardt drug store ghost sign stands where the store once stood, on the south-east corner of West Lexington and Arch streets. The store was founded by Louis Boucsein (1831-1910), a druggist from Germany around 1889. Before Boucsein's store the building was occupied by John Luntz and William C. Kraft owners of Luntz & Kraft Provision or Grocery.

Before moving to 631 West Lexington Street, Boucsein owned drug stores throughout the city.  While Boucsein was not a graduate of UMB, two of his eight children graduated from the University or a predecessor school: William G. Boucsein, Maryland College of Pharmacy (MCP, predecessor to UMB's School of Pharmacy) class of 1895 and Gustav F. Boucsein, University of Maryland School of Medicine class of 1885.
Louis Boucsein sold the store to Louis George Eberhardt (1875-1935) around 1899. Like Boucsein, Eberhardt was from Germany where he graduated from the University of Marburg in 1854. After moving to Baltimore, Eberhardt attended the MCP for the 1894-95 school year under the preceptorship of William H. Lotz (Class of 1870). There is no record of Eberhardt's graduation, however the Medical Directory of Maryland and Washington D.C. for 1900-01 has him listed as a Ph. G. (Graduate of Pharmacy).
In addition to owning a drug store, Eberhardt served as Inspector of Pharmaceutical Sales in Baltimore, a position created by city hall to ensure all scales used in pharmacies met standards established by the official weights and measures department.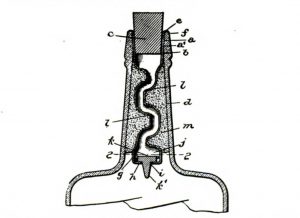 Eberhardt was also one-quarter owner of a patent for a non-refillable medicine bottle. The bottle was designed to keep people from tampering with the medicine in the bottle by adding other liquids. The other partial owners were Gould O. Hildebrand—the primary patent owner, Timothy O. Heatwole, and William Atschild. Finally, Eberhardt was president of the Ros-Mar Chemical Company, a patent and proprietary medicine company in Baltimore.
Around 1921, Eberhardt sold the store at 631 West Lexington Street to Simon Solomon (1896-1975), a 1918 prize-winning graduate of the University of Maryland School of Pharmacy. Solomon owned the store along with two other drug stores with his twin brother Samuel.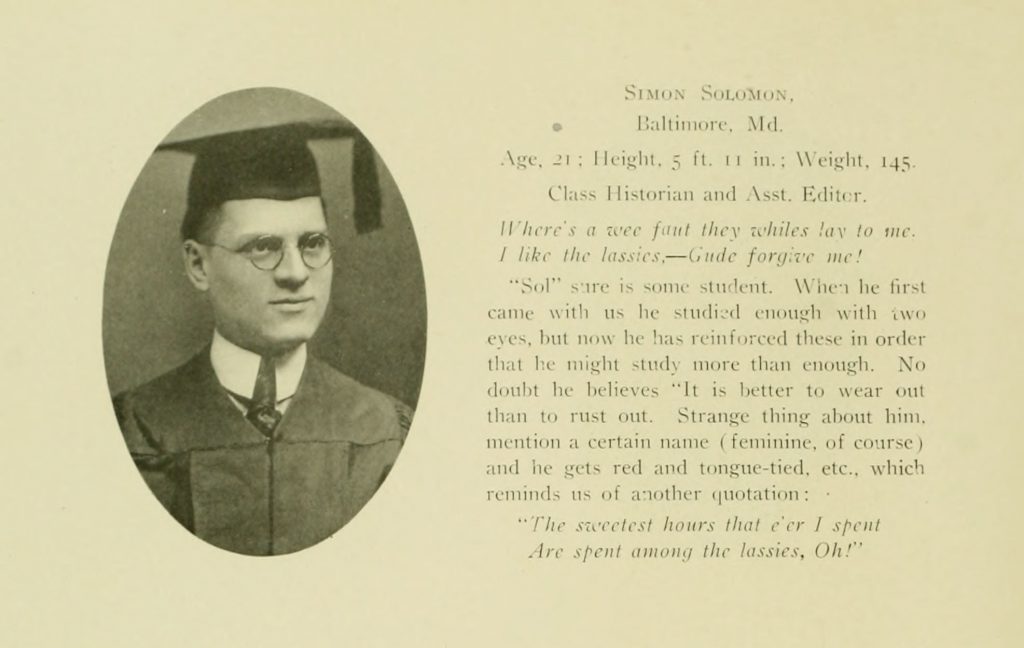 Solomon was also active in local and national pharmaceutical associations, serving as President of the Baltimore Retail Druggist Association and Vice-President of National Association of Retail Druggists. He was also director of the Calvert Drug Company, a wholesale drug company in Baltimore.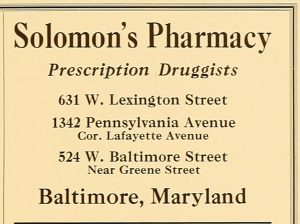 Most importantly to UMB, Solomon was very active in the School of Pharmacy's Alumni Association receiving the award as honorary president in 1961-62. Solomon also created a $50 prize for the graduating student who performed the "most satisfactory work in pharmacy" during their 2-3 years of school. 
Sometime around 1935, the Solomons' consolidated their stores, closing the store at 631 W. Lexington Street and operating out of 524 W. Baltimore Street.  Today, the building on the corner of Lexington and Arch streets no longer serves as a pharmacy, yet the sign remains reminding those who pass by of the buildings' rich pharmaceutical history.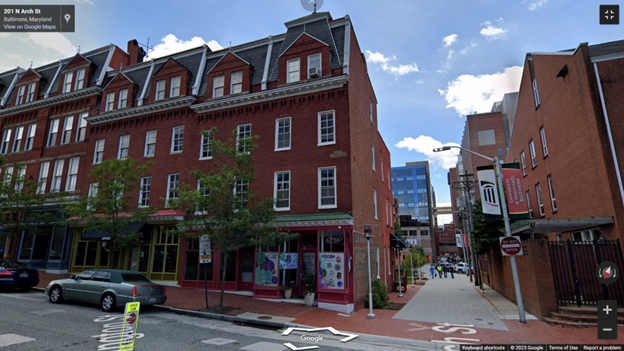 Historical Collections Resources Used:
Online Resources Used: