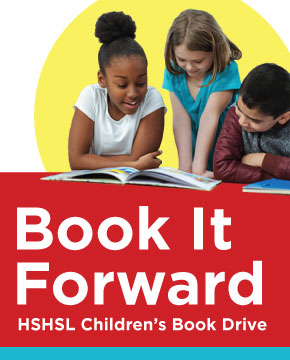 Book It Forward is happening again this year! From Monday, April 3 to Wednesday, May 31, 2023, you will find containers throughout the Campus and in the library for collecting new and gently used children's books, age levels birth through high school. The books will be donated to local schools and daycare centers. 
Book donation containers will be placed around the UMB campus. Look for them at the HSHSL, Campus Center, BioPark, School of Nursing, and the Saratoga Building.
Last year, during the months of April and May, the HSHSL Community Service Committee partnered with the Diversity and Inclusion Committee and the Office of Community Engagement to sponsor the first Book It Forward book drive for children and youth. It was successful as over 1,200 books were collected and delivered to three schools and two daycare centers. Because of this success, the decision was made to launch the drive again this year. 
This year, childcare has come to the forefront, with age levels ranging from birth through twelve years. There are 4 individual daycares and a central network serving 35 care centers among donation takers. One middle/high school will also receive donations. One of the schools requested a visit to HSHSL, and a story time featuring health-related children's books is planned.  
The sponsors for Book It Forward are the HSHSL Community Service Committee, the HSHSL Diversity and Inclusion Committee, and the HSHSL Effective Communications Committee with the Office of Community Engagement.  
Questions about the project? Contact bookdrive@hshsl.umaryland.edu