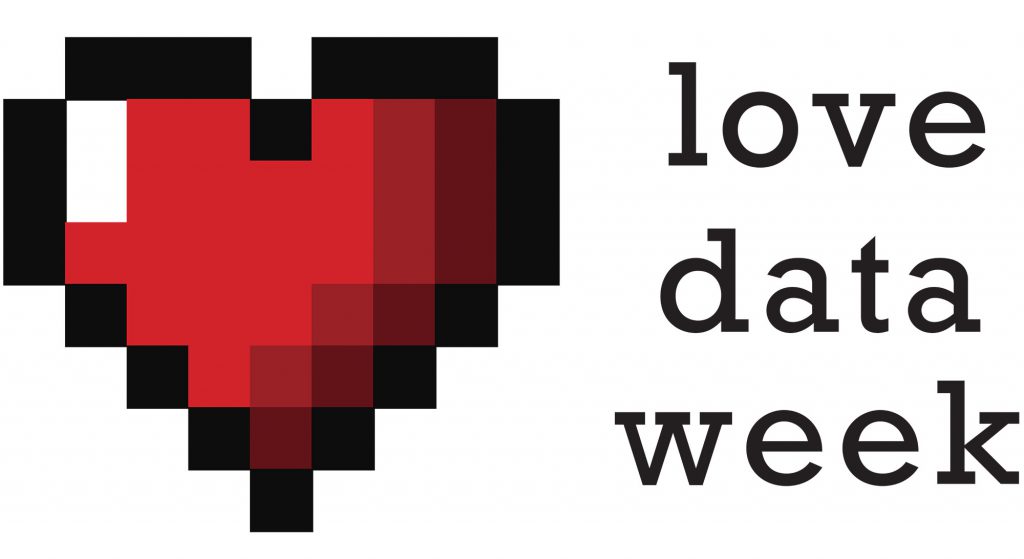 Love Data Week is an international celebration of all things data! Here at the Health Sciences & Human Services Library, we will be celebrating all week long with info sessions, workshops, prize giveaways, and more. 
Want to participate? Here's how!
Look for our pop-up table at your school or at the SMC Campus Center during the week of February 10. Come and learn about bioinformation and data services at the HS/HSL and grab a piece (or three) of candy!
Tell us about how you use data! Fill out our survey [survey opens February 10] for a chance to win one of three $50 Amazon gift cards.
Join us in the HS/HSL lobby on Valentine's Day, Friday, Feb. 14 for a "Byte of Data" coffee and doughnut break from 8:30 to 10 a.m.
Finish out Love Data Week with a data workshop. We'll be offering sessions on data management, the UMB Data Catalog, and design principles in data visualization!
Schedule for Pop-up tables:
School of Dentistry – Monday, Feb. 10, Noon to 2 p.m. (Ground floor)
School of Nursing – Tuesday, Feb. 11, Noon to 2 p.m. (1st-floor lobby)
School of Medicine – Wednesday, Feb. 12, 9 to 11 a.m. (HSF1 near the 2nd-floor elevators)
School of Pharmacy – Wednesday, Feb. 12, Noon to 2 p.m. (Atrium)
School of Social Work – Wednesday, February 12, 1:45 to 2:45 p.m. (Main entrance)
Schedule for Workshops:
Date: Friday, February 14
Location: HS/HSL Room LL05
Register for workshops here: https://www2.hshsl.umaryland.edu/hshsl/workshops/
Noon Best Practices for Research Data Management
Get organized and avoid a "data disaster"! This workshop provides basic strategies and best practices for effectively managing research data to ensure its organization and accessibility. Topics covered include funder and journal requirements for data management and sharing, standards for file naming and structure, resources for data management planning and sharing, and strategies for storing data during research and preserving it for the future.
1 p.m. Get to Know the UMB Data Catalog
What is the UMB Data Catalog and how can it benefit you and your research? We will answer those questions and more in this brief information session.
2 p.m. Elements of Creative Data Visualization
Learn how to tell a story with your data by incorporating creative design elements in your data visualizations. In this workshop, you will not be learning how to analyze data or graph it. Instead, you will learn how to take existing data visualizations and elevate them.
Don't forget to follow the HS/HSL and Love Data Week on social media! #LoveData20 #UMBLovesData