DABS: DATA AND BIOINFORMATION STUFF
Registration Open for ICPSR Summer Program in Quantitative Methods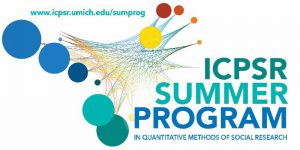 Improve your statistical analysis skills with ICPSR'S Summer Program!
ICPSR (Inter-university Consortium for Political and Social Research), is home to the world's largest collection of digital social science data. Register now for ICPSR's long-running and well-respected Summer Program in Quantitative Methods. This program offers a mix of intensive four-week sessions, shorter workshops, and lectures series throughout the summer This year's program is hybrid with opportunities for virtual attendance or on-location attendance in Ann Arbor, MI. Courses are for beginning or advanced students of quantitative methods. The program attracts university faculty and researchers, graduate students, and nonacademic research scientists.
As members of ICPSR, the UMB community receives a significant discount on tuition. There are also a number of scholarships available to help defray costs even further. 
Example workshop topics include:
Race, Ethnicity, and Quantitative Methodology
Regression Analysis
Multivariate Statistical Methods: Advanced Topics
Machine Learning: Applications in Social Science Research
Data Science and Text Analysis
Panel Data and Longitudinal Analysis
Bayesian Modeling
Important dates:
Scholarship Deadline: March 28, 2022
Early Registration Discount Deadline: April 30, 2022
Registration closes for Session 1: June 12, 2022
Registration closes for Session 2: July 10, 2022
Session 1: June 20 – July 15, 2022
Session 2: July 18 – August 12, 2022
Short Workshops: Multiple dates from May through August 2022.
Questions? Contact: Amy Yarnell, data services librarian, and Jean-Paul Courneya, bioinformationist, at data@hshsl.umaryland.edu.
---
The Center for Data and Bioinformation Services (CDABS) is the University of Maryland Health Sciences and Human Services Library hub for data and bioinformation learning, services, resources, and communication
Sign up to get DABS delivered to your email or RSS feed.