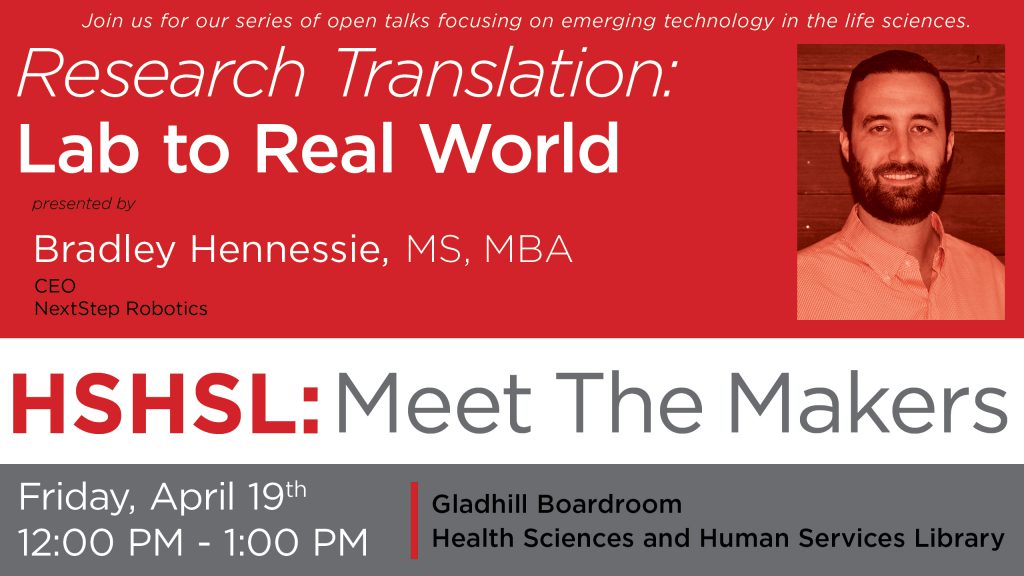 HS/HSL is proud to host Bradley Hennessie, MS, MBA, for our Meet the Makers guest speaker series on emerging technologies in the health and life sciences (RSVP here).
Mr. Hennessie is CEO and co-founder of NextStep Robotics, a medical device company that has developed a personalized robotic therapy for stroke victims who suffer from "drop foot syndrome".
His work in this area began nearly a decade ago as a researcher in the University of Maryland School of Medicine and the Baltimore V.A. Medical Center.
Mr. Hennessie will discuss his pathway from the lab to the market, securing investment and grant funding, and future directions for his company.
"Research Translation: Lab to Real World"
Bradley Hennessie, CEO, NextStep Robotics
Friday, April 19, 2019, 12pm to 1pm
Health Sciences and Human Services Library, Gladhill Boardroom
* A light lunch will be provided – please RSVP here.