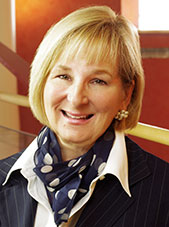 M.J. Tooey
Executive Director
How many times have I written those words? Every time I do, I can feel the energy of a new academic year. It is truly wonderful to see old friends and meet new friends.
If you are new to the university, I hope you find a second home (after your school, of course!) here at the HS/HSL. The three words we use to describe the HS/HSL experience are: Expertise, Resources, Place.
Expertise: The team here at the library offers a range of services to support the education, research, and care missions of the university. The Research and Education Faculty Librarians assigned to each school work with faculty and students both in the curriculum and on projects. Subject guides have been developed for each school and numerous special topics. Our Research Connection program offers help with systematic reviews, PubMed Central submissions, metadata management, and so much more.
Resources: We endeavor to provide our faculty, staff, and students with the resources they need to succeed. Our journals are almost 100% online, which means you can access them from anywhere. We license dozens of databases in all disciplines. If we don't license the resource, there are a number of ways we can get you the information you need in a timely manner. As of the end of August, you can use your regular campus UMID and password to request articles. And it's free!
Place: When we talk about "place," we actually mean two places. Increasingly, our website is the primary "place" to go to access our expertise and resources. Subscribe to Connective Issues. Follow us on Twitter and Facebook. Our physical "place" is pretty awesome as well, with 45 small group study rooms (some of which can be reserved, wireless throughout the building, a presentation practice studio, two video conferencing rooms, and plenty of outlets to recharge devices. And … the longest continuous staircase in Baltimore. We are food friendly! Teaser: Have you ever thought about 3D printing?
Anyway, we're glad you're here, however you use our expertise, resources, or place!