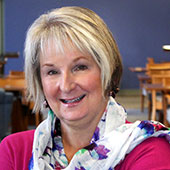 M.J. Tooey, executive director
The start of a new academic year gives me an opportunity to tell you about all the amazing things going on at the HS/HSL. Since we tend to organize ourselves around our three-word byline – Expertise, Resources, Place – I thought I would try to frame my column around those areas as well.
So, in addition to the usual things we do, such as teach, collaborate, provide consultations, acquire and lend books and articles, and provide interesting exhibits, here are some highlights about what you can look forward to this year.
Expertise
Continuing to build our strong research services, we have reorganized the research section of our website to increase the visibility and accessibility of our expert services that support the research enterprise from idea to impact. In addition to our research data management services, we also help with data management and visualization, and research impact studies.
The Southeastern Atlantic Regional Medical Library of the National Network of Libraries of Medicine continues to provide expertise in the products of the National Library of Medicine at NIH. Of notable interest is our engagement with the NIH All of Us Precision Medicine Initiative, where we are working with public libraries educating and informing the public about the benefits of research and precision medicine in particular.
Resources
The UMB Digital Archive will be rebuilt on a new, cloud-based platform.
The HS/HSL will be undertaking a complete reimagining of its website in FY19.
Look for an announcement in the near future about a multi-year project to acquire digital backfiles of many of our most popular journals, giving our users access, in many cases, all the way back to the beginnings of a journal…online!
Place
Coming soon, a new improved 3D printer in the Innovation Space.
A redesign of the main and second floor study areas and other new furniture throughout the building.
Lots of great upcoming exhibits in the Weise Gallery, including one featuring the art of Maryland's First Lady, Yumi Hogan.
We have so much going on that it is impossible to capture it all here, so watch the digital displays, The Elm, Campus Life Weekly, email, and our website.
And as I say every year – Welcome and Welcome Back!