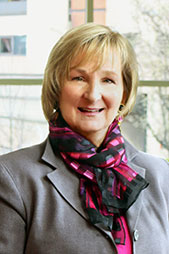 M.J. Tooey Executive Director
Welcome and welcome back! For our returning friends, we are delighted to see you again. And for those new to the HS/HSL, it is nice to meet you. The HS/HSL is a vibrant, beautiful place, with library team members committed to your success in the classroom, in the lab, and in the clinic. Whether you are having a consultation with your school liaison, studying, or taking a nap on the couches (no snoring or drooling, please), we are happy to see you.
There's always something happening in the HS/HSL – virtually and physically – so make sure you are connected either through this newsletter, The Elm, our newsfeed, Twitter or Facebook. There's more detailed information throughout this issue, but here are some updates:
When accessing HS/HSL resources off-campus, look for the login button in the upper right corner of the HS/HSL page. Login once for access to our resources.
The next exhibit in the Frieda O. Weise Gallery is Confronting Violence: Improving Women's Lives, which runs from Sept. 26 through Nov. 5, 2016.
The Library Genie returns in October. Our annual poll of your wishes for the Library has led to some improvements you'll be seeing over the course of this year: new chairs, new water fountains, and an all-gender restroom.
On the 4th floor, you may notice some gaps on the shelves. Over 2500 volumes were removed over the summer because we now have access to online digital backfiles.
Speaking of the 4th floor, the study space in the tower will be converted to support the Informatics Innovation Incubator (I3) program. The I3 initiative will bring new tenants with programming and informatics skills into the building. We are looking forward to potential partnerships. The study carrels will be moved to other areas in the building.
Finally, if you haven't stopped into the Innovation Space (or iSpace as we fondly refer to it), please do. In addition to 3D printing and button makers, we've added a poster printing service.
Over the next year, the NIH Big Data to Knowledge Initiative (BD2K) will be hosting a series of one-hour seminars on emerging issues and challenges in managing data, taught by leaders in the field. Here's the current schedule and more information on the series: http://www.bigdatau.org/data-science-seminars. The sessions are held on Fridays from noon to 1 p.m. and can be watched from your desktop. All sessions will be archived.
As I said, there is always something happening here at the HS/HSL. Let us know how we can help. Make sure you are connected to us in some way. We wouldn't want you to miss anything. Have a great year!