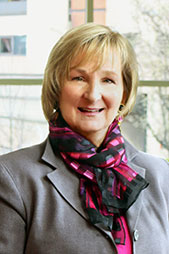 M.J. Tooey Executive Director
The team at the HS/HSL teases me that every fall I use the phrase "welcome and welcome back" as a key element in my Executive Director's message. But I can't think of a phrase that better captures the essence of how I feel every fall as academic year begins. So nice to see old friends and meet new ones.
Every year, I use this issue to focus on some of the new things we will be doing this year in addition to the many things we are already doing. So pay attention! You can read more about some of these activities in the Connective Issues articles that follow.
In October, we will be introducing an online Entrepreneurship and Innovation Toolkit to link future entrepreneurs and innovators to resources at UMB and beyond that will help them become the next Mark Zuckerberg or Cher Wang. Remember how the HS/HSL helped you on the road to becoming an entrepreneur and billionaire. You might want to make a big donations somewhere. Name a building someone?
We are launching a great speaker series called Meet the Makers to introduce our community to scientists and people who are pushing the edge in the "maker" community.
This coming spring, look for a number of symposia and special events, such as a Maker Expo and a Changing Face of Research Symposium. Not to forget the HS/HSL building's 20th anniversary celebration.
And while we are on the topic of the building, we will be working on reconceiving our main floor and will be seeking your input on layouts, furniture, etc.
We will be launching a high-performance computing work station as a new service, along with some virtual reality programming.
We will be having some outstanding exhibits in our Weise Gallery, including one called "Healing Masks" that features an exhibit of masks made by soldiers and others to help them cope with PTSD.
I could go on and on, because this is going to be one busy year. Stay tuned through Connective Issues and other campus publications as we move through the year.
Welcome and welcome back!