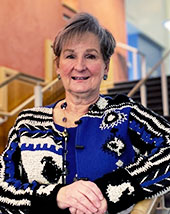 M.J. Tooey, Library Dean
I am not exactly sure how many times I have written the "Welcome and Welcome Back" column for Connective Issues, and I am not going to check. I do know this one will be the last, as I will be retiring at the end of the year.
I have been at UMB for over 36 years and have had the privilege of leading the Health Sciences and Human Service Library since 2004. Every September, I look forward to the energy and enthusiasm that comes with the start of the academic year. This year is especially sweet as not only is it the start of my last academic year but also I feel as though we are coming out of the shadow of COVID. Seeing users return to the building and hearing the sounds of collaboration and laughter has warmed my heart.
A preview of the upcoming year shows modifications to the building renovated third floor, expansion of the Grid, a remodeled administrative suite, the new Center for Faculty Teaching and Learning); new and improved programs and services (new courses, online and onsite training, support for new government mandates around data and open access, new library faculty and staff); renewed attention – both internally and externally – to diversity, equity, and inclusion; and ongoing commitment to innovation in our work at UMB and in the community – locally and regionally. Our new strategic plan sets us on a course for all of this.
As we enter the 2022-2023 academic year, I hope you will all consider the faculty and staff of the HSHSL – and the services and resources they provide – as collaborators and partners in your academic, discovery, and outreach success. We are here with you and for you.
Welcome and welcome back!