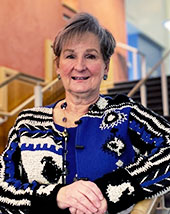 M.J. Tooey, executive director
Another academic year is coming to a close. In many ways, this year − like the year preceding it − was just a little different. While we reopened on a limited basis in the fall of 2020, it was not the same. UMB guidelines limited what we could do, and that kept our library team and our library safe. Most of our community wasn't onsite, and we were ingenious in developing new ways to deliver services, resources, and programs.
In the fall of 2021, blown by the winds of COVID, vaccine, surges, telework, and anything else that came our way, the HSHSL opened up a little more, only to be knocked back by Omicron. Who knows what the future will bring?
We have learned a lot during the roller coaster that has been these past two plus years. It has been a time of perseverance, agility, and creativity.
Some thank yous:
Thanks to everyone in our UMB community for your flexibility and continued support of the HSHSL during these challenging times.
Thanks to all who complained about masking, eating, hours … whatever. It shows you really care about your library. To paraphrase Sally Field's Oscar acceptance from years ago, "you like us!"
Thanks to every member of the HSHSL team. Those who kept the building open even before vaccines. Those who designed signs, signs, and more signs. Those who put signs up. Those who took them down. Those who put them up again…you see how this goes. Those who maintained services, created new services, found ways to do things differently, and continued to move programs and projects forward. Those who created new ways to communicate constant changes.
And finally, a special thanks to the leadership team in the HSHSL. They solved problems at a moment's notice. They used their project management skills to create solutions. They responded swiftly as situations changed. They collected data and developed thoughtful, practical, elegant, and staff and user-centered responses to any challenges set before them.
So here we are at the end of another unique year that will probably be just another in the continuum of unique years. Good luck to all who are venturing out into this "new normal" (ugh!). And to those who will remain, the HSHSL will continue to advance and respond and thrive with you through any challenges!