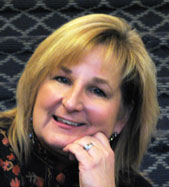 M.J. Tooey
Executive Director
In November 2010, I wrote a column asking what you value about the HS/HSL. One of my key points was that we provide an academic institutional conscience and a moral compass through our support of intellectual freedom, copyright and fair use, and advocacy for our users and their right to information and privacy. During a period when our time and energy is consumed by budget woes and complaints about resources we don't have and can't afford, by hiring staff with expertise in exciting new areas and programs, and by imagining and envisioning our future, it's easy to lose sight of why we do what we do. This noise obscures and clouds our foundational work.
October is National Medical Librarians Month. Please note the use of the word librarians, not libraries. Libraries do nothing more than provide shelter for people and physical resources.  And while it is essential to consider the importance of the library as place and philosophy, it is the librarians (and other talented library staff) who provide access, develop and deliver programs, conceive of, and create services. We supply the knowledge and intellectual capital for the creative engine that moves the library forward and underpins the culture and output of a great university.
We believe that we are an integral part of the discovery, education, and service enterprises. Our expertise is knowledge management. Without our expertise, those who value ease of access would have no access. We aquire, organize, and assure access to critical resources. Web pages are designed. Content is created, linked and made findable. We partner in curricula. We consult on complex information problems. We are knowledge informaticists. We collaborate across campus, across the university, across the region, and across the country. We relentlessly pursue information on behalf of, and with our clients.
We are tireless advocates for user rights, for fair use, copyright, and access to information … and for privacy when you do acquire the information you need. This year we recognize the 10th Anniversary of the Budapest Open Access initiative and read with interest the report from "10 Years On". We are encouraged that positive progress is being made. To celebrate National Medical Librarians month we are partnering with some of our students in recognition of the open access movement (see article below).
We believe there is a direct connection between quality information and good health. Linking our citizens to understandable, appropriate health information makes them better health care consumers and partners in their own care and wellness. Through our outreach efforts in the region, across the state, and in our community, we advocate for health literacy and elimination of health disparities.
Happy National Medical Librarians Month!