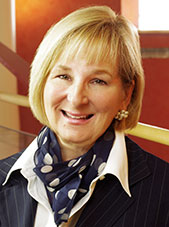 M.J. Tooey Executive Director
Every year I look forward to the publication of the New Media Consortium's Horizon Report, which makes predictions regarding trends at the intersection of education and technology. This year was no different, but I have to say that upon my initial read of the 2015 report, I was somewhat disappointed. I didn't see anything new or exciting to think about. Upon a second reading, I became a little more engaged. Many of the foci in this year's report are themes that have been explored for many years. My interpretation now is that we've got to get going on these things!
I have always read the report with an eye towards what it means for the HS/HSL. This year I pulled out the following areas. My comments follow each area.
Advancing Cultures of Change and Innovation. As we have worked on our new HS/HSL strategic plan, we have learned a lot about what our users value. We are honing in on our unique contributions to collaborations, research, and advancing the economic success of our community. We have to do more to catalyze these areas through effective information use and knowledge creation.
Cross-institutional Collaboration. For over two decades, through the University System of Maryland and Affiliated Institutions library consortium, we have worked to collaborate on the cross-institutional acquisition and sharing of resources. We are taking that further through the inclusion of other higher education institutions in Maryland for projects such as shared information repositories.
Open Educational Resources. The library community has been advocating for public and open access for a decade. Open Educational Resources (OERs) are another logical step. These resources are created by and for educators, and their use is free with proper attribution. There are several initiatives at the USM level, and the HS/HSL has been exploring a partnership with the School of Pharmacy to produce an open pharmacy textbook.
Redesigning Learning Spaces. We have a wonderful physical environment, and we continue to look for ways to enhance it. Our strategic planning exercise has reinforced the desire for collaborative spaces in all shapes and sizes. We have redesigned our largest teaching lab to include new state-of-the-art technologies.
Digital Literacy. For over 30 years, library trainers have championed concepts of information and digital literacy. Our instruction continues to evolve to meet the needs of our students and faculty in a digital age with a focus on new learning tools and technologies and the pedagogy that sits on top of them and truly makes them effective.
Makerspaces. Later this spring we will be introducing 3D printers in the HS/HSL. They will provide UMB faculty, staff, and students with access to tools to create and learn. Our big question is, "What is the next thing we could add to truly develop a 'makerspace' for UMB?" Are there other tools, training, or courses we should be investigating?
While I feel the 2015 Horizon Report reflected many themes from earlier reports, the fact that these themes are still on the "horizon" means we need to seize opportunities to make them happen. Let's get to work!