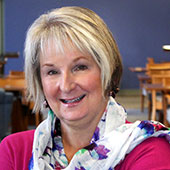 M.J. Tooey, executive director
Is there anything more depressing than darkness at 5:00 in the afternoon? Short cold days. Coats, scarves, mittens, boots. Hot cocoa. Yummy soups. Cookies. And of course, a warm welcome in the HS/HSL! As with almost everything in life, where there is a downside there is also an upside. And so it goes at the HS/HSL.
Again, this year there was a budget shortfall for our journal collection. This year the deficit was around $300,000. While Academic Affairs and the HS/HSL were able to come up with $150,000, we still had to cut hundreds of journals. You can read more about it later in this issue; however, this ongoing erosion of our journal collection does not bode well for research and education at UMB.
On the positive side, we have had such a fun fall semester. Our new first floor layout is a hit and our gate count is through the roof! A remodel of the second floor will take place this spring. The 1807 Exhibit was outstanding. We had a very successful "I

the HS/HSL" contest in October, with a very clever video as our winner – see the article later in the issue. We always get great ideas for the Library from the Library Genie. And our Future of Research event on November 20 was a great success. You can read all about it in this issue.
And so 2019 draws to a close. Looking back on the year, I think the positives have outweighed the negatives. I hope your year has been the same, with good things outweighing bad. May 2020 bring you happiness and success, however you measure it. Wishing you only the best!