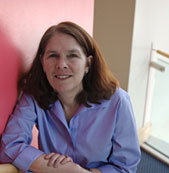 Guest Columnist
Alexa Mayo, MLS, AHIP
Associate Director, Services
Collaboration, whether within the University, throughout the state, across the nation or around the world, is a key component to the success of academic work, research, and clinical care.
Libraries and librarians have had a long-standing role in facilitating collaboration. The Library is one of the few places where faculty, staff and students gather in one physical space. Our services and expertise extend throughout the University, into the community and beyond.
One opportunity for the Library to continue its commitment to advance collaboration was the design of the current Library building – five floors with natural light, a research commons, beautiful open spaces, and 45 study rooms, many enhanced with technology. Recently, we investigated how the Library could further enrich collaborative work with technology and expert support. The result was the design of the Presentation Practice Studio.
Technology-enhanced physical space within the Library encourages group work and is playing a greater role in moving the University beyond its physical boundaries. As we envision a global community, the Library will continue to be a partner in providing the tools and expertise needed for success.