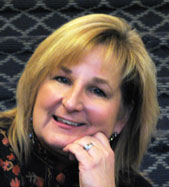 M.J. Tooey
Executive Director
For many people the time between the Super Bowl (yay Ravens!) and baseball season can be a time of doldrums and depression. Sure there is basketball. The NHL is back. Lacrosse season is imminent. But for me there is nothing like the release of the annual NMC Horizon Report to cure my winter blahs. Imagine my delight when the day after the Super Bowl, the report landed in my email box.
The NMC Horizon Report purports to be an "unbiased source of information that helps education, trustees, policy makers, and others easily understand the impact of key emerging technologies on education, and when they are likely to enter mainstream use." The Library is an information industry and has been for many years, and these annual reports are essential for me to envision the impact of technology not only on the work done by the library team, but on the work of our university community. In addition to the full report, there is also the NMC Horizon Project Short List which takes a slightly different approach in a shorter format. The report breaks down the information into key trends, significant challenges, and time-to-adoption horizon of one year or less, two to three years, and four to five years. In addition to the in-depth information about each topic, there are valuable references, discussion of relevance, and concrete examples of use.
According to the 2013 Horizon Report, two technologies with adoption horizons of one year or less are Massively Open Online Courses (MOOCs) and tablet computing. Just Googling the term "MOOCs" delivers an enormous amount of retrieval. This concept has blown up over the last year with the involvement of universities such as Stanford in producing courses that have tens of thousands of students. Originally free of charge, increasingly the model is shifting to one with fees and for credit. It is a model for personalized learning for the masses. While many may believe this model does not apply to professional education, in truth, it inevitably will.
Another example from the report is tablet computing. One only has to look around the Library to see the deep penetration of tablets into our learning environment and into the public mainstream. More and more platforms and apps are being developed allowing users to create their own portable learning environments. And how about portable research or clinical care environments? The ease of use and market penetration has made this personal tool essential to today's learners.
The report goes on to examine technology whose adoption is further out. It is fascinating to read about augmented reality or game-based learning and imagine how they might be used in our university environment.
There is so much more in the report to absorb and think about. I hope you have the time between now and Orioles opening day to take a look.