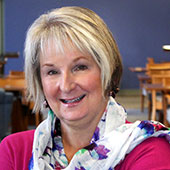 M.J. Tooey, executive director
The staff at the HS/HSL took a ten-year break from publishing an annual report. It wasn't that we had nothing to report. In fact, this has been an extremely productive time as we focused on transforming the HS/HSL into an organization of knowledge experts offering new and unique services and resources. However, the type of annual report we used to do was laborious to write, edit, and publish. We were fatigued by the process and bored by the content by the time it was eventually published.
Inspired by graphic, dashboard-oriented reports, we decided to try a short, focused annual report. We limited ourselves to two pages. It needed to be in color, contain images, be available online with live links, and able to be printed out as a promotional piece. While our inaugural short report didn't take us any less time due to our need to make design and content decisions, we are pleased with the result. Now that we have the format, we vow to have next year's completed before the 2019 holidays.
The report hones in on the many ways we support our user community and beyond through our expertise, our resources, and our place.
I am pleased to present to you the HS/HSL 2017-2018 Annual Report.