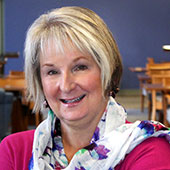 M.J. Tooey, executive director
Our last issue of Connective Issues came out just about the time we were being sent home in response to the COVID-19 pandemic. The last time we stepped foot in the HS/HSL was March 13. I quickly wrote a column acknowledging the Library's closure. At the time of this writing, we are heading into our eighth week of work-from-home.
We are focusing this issue of Connective Issues on the HS/HSL's work in the time of COVID-19. When we left on March 13, we had some ideas about the types of things we could put in place to operate remotely – working and partnering with, and even supporting, our user community and, most of all, each other. We've made things up as we go in this swiftly changing landscape. And we have learned a lot. I have never been prouder of the team at the HS/HSL. They have been creative, hard-working, committed – finding ways to balance new technology, home life, and family, and inventing new approaches daily. Through it all, they have been kind to each other.
We have also never been prouder to be part of the UMB community. There has been steady, considered guidance, a concern for safety, and a true feeling we are all doing important work to combat this pandemic.
As we move forward we have a lot to think about. Our world has shifted in a huge way. What have we learned? What have we done well? What could we have done better or more creatively? I think our strategic plan will need to be tweaked.
And so, this issue showcases some of our progress, our challenges, and the ways we have confronted, and even embraced, this new normal.