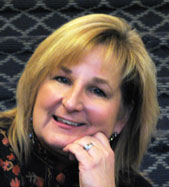 M.J. Tooey
Executive Director
It's only August, and I am already tired. We seemingly went from summer to the new academic year overnight. It is delightful to greet old friends and colleagues and to meet new ones. Whether you come to us physically or digitally, welcome! Library faculty and staff have been working on some really interesting things while you were away.
For example:
At the request of students we began fall hours earlier – on August 15 rather than after Labor Day. Additionally, we have extended hours throughout the week (see the "Late Night Study" article, also in this issue of CI).
The exhibit Harry Potter's World: Renaissance Science, Magic, and Medicine opens in the Weise Gallery on September 18.  Stay tuned for announcements about special events associated with the exhibit.
On October 18, the HS/HSL will co-sponsor with Elsevier Publishing a half day event focused on "Publication Ethics" at the Southern Management Corporation Campus Center. Mark your calendars for this thought-provoking session!
The Library Advisory Committee will be reconstituted into separate committees for faculty and students.  We will be looking for ideas and members.
As we continue to evolve our teaching and learning spaces, we will begin a major project to re-imagine our teaching labs, and we will need your help.  We want to know how you like to learn.
The Presentation Practice Studio is spiffed up and ready for use.  At the end of last academic year we had a pretty regular cadre of students and faculty interested not only in practicing presentations but in recording classes.  Creative use of the Studio is only limited by your imagination.  For more information visit the Studio web page.
We are happy to introduce you to a number of new faces throughout the library – look for them in the schools, at the service desks, at the other end of email, and doing outreach.
Sadly, we are saying goodbye to Yani Yancey who has spent the last year at HS/HSL as a second-year National Library of Medicine Associate Fellow.  It is always nice to have fresh new perspectives and observations, and Yani has done so much with us and for us over this past year.  Her particular focus has been on outreach, and she has worked tirelessly on a number of projects—most specifically on the curriculum for our three-year health disparities grant.  What a great job she has done, and what a pleasure she has been to work with.  We wish her all the best.
There is a lot more to report. To keep up with all our projects and events, subscribe to our newsletter right on the main library web page, "friend" us on Facebook, follow us on Twitter, or receive our breaking news via RSS feed.
We are ready for everyone, so let the 2011-2012 academic year begin!