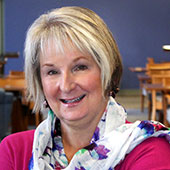 M.J. Tooey, executive director
Almost every article you will have read over the last month will have remarked on the one-year anniversary of the first COVID-19 case or the first COVID-19 death. With 500,000+ deaths across the U.S., who knew March 2020 would be such a pivotal month and the start of a pandemic? On March 13, the HSHSL team closed and locked the library doors, expecting to return in a few short weeks or at the most, months.
I was, and still am, so proud of the way the HSHSL staff rose to the challenge, pivoting to an almost completely online environment, solving problems, creating solutions, and proving a library is more than the sum of its four walls. The building was closed but the Library wasn't. With the exception of access to physical collections, we reimagined and, in many cases, improved the ways we work with, and within our UMB community.
On September 14, we reopened the building on a limited basis – two floors, reduced hours, skeleton staff, physically distant seating, restricted entry (UMB and UMMC members only), and limited capacity. This is where we find ourselves today.
We have received requests from our user community, the public, and students from other universities to relax our restrictions. Although it warms our hearts to think how highly people regard us, we will be maintaining our building restrictions, in line with UMB policy, for the foreseeable future. The majority of our staff are on mandatory telework, and we are committed to keeping our onsite staff, who are stretched very thin, as safe as possible. We follow UMB guidelines. Monitor what health experts say. Confer with other libraries in the USM, many of which are not open at all. And still provide excellent services and resources virtually. While I know many of you see the HSHSL as a place of solace, study, and scholarship, we need to remain vigilant. It is our hope that we will be together soon.