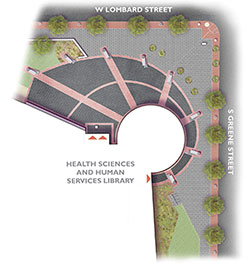 On April 5, 2023, work will begin to remove and replace the plaza pavers in front of the Library. During this project, both the area in front of the Library and the library building's main entrance will be closed. The new, temporary entrance to the Library will be through the Campus Center. The plaza renovation will take about four months to complete and will not affect library services or hours.
While the sidewalk will remain open during most of the project, it will close intermittently to allow trucks to remove debris and deliver construction supplies. Updates and signs will be posted inside and outside of the Library with information about foot traffic detours.
Once the project is complete, look for a renovated plaza with new planter boxes and attractive, landscaped beds.