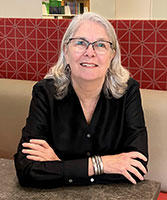 Alexa Mayo, Interim Associate Vice Provost and Interim Dean, HSHSL
September will forever be back-to-school time. It is such a pleasure to see so many new and returning students in the Library.
What's new at the HSHSL? Several years ago, we began purchasing older journals that had been digitized and made available online. This has allowed us to remove the print volumes and open up space for the renovation of the third floor. The renovation is now complete. The furnishings and layout are intended to support students' quiet study. If you haven't visited already, please stop by to experience the furniture and open, light-filled space. On the Library's exterior, the front plaza has been replaced. We look forward to enhancing it with planters, making it a more inviting outdoor area.
As we head into the new academic year, keep in mind the many services the Library has to offer: faculty librarians provide research support to faculty, staff, and students, including expertise on data management. Ask an in-person question at the HSHSL's Information Services Desk or an online question by email or chat. Go to our website, to reserve study and meeting rooms, request poster printing, and access the Library's collection of research databases and journals and e-books.
Wishing you all the best as you head into the fall semester at UMB. Let us know how the HSHSL faculty and staff can be collaborators and partners in your success!